SIRO selects Wexford Town for fibre broadband
Wexford Town To Become SIRO-Powered With 100% Fibre Optic Broadband Network
SIRO, the ESB-Vodafone joint venture which is delivering Ireland's first 100% fibre-optic broadband network to 50 towns nationwide, has today announced that construction is underway on its network in Wexford town and that services will begin to become available this summer. The announcement was made by Minister of State Paul Kehoe TD at an event in Wexford Town Hall.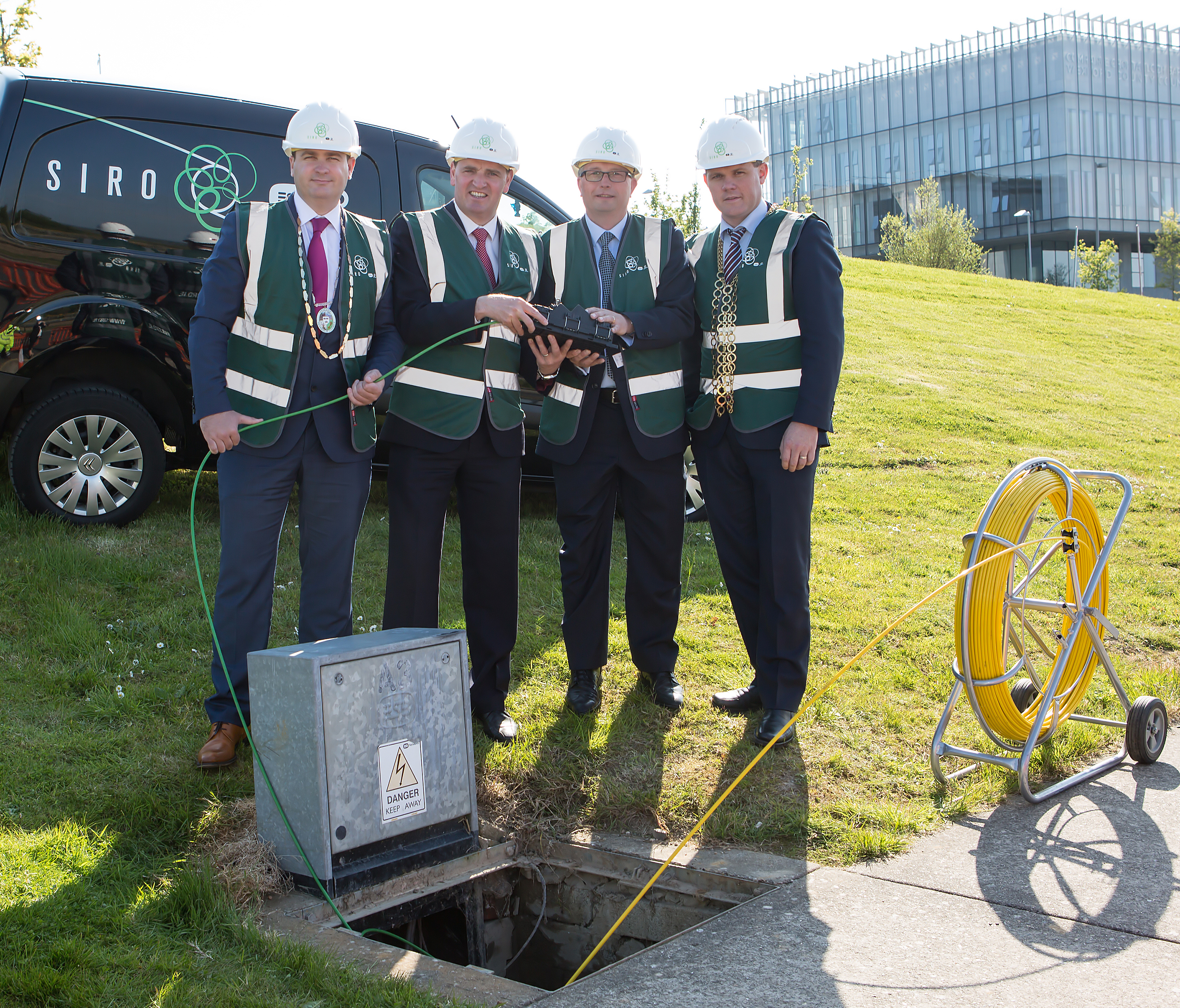 Pictured left to right are Karl Fitzpatrick, President of Wexford Chamber of Commerce, Minister of State Paul Kehoe TD, Sean Atkinson, CEO of SIRO & Mayor of Wexford Councillor Ger Carthy.
SIRO's key differentiator is that it is a 100% fibre-optic internet connection, making it different and better than any other broadband infrastructure in Ireland, with no copper connection at any point in the network.
This will mean that consumers, businesses, community groups and service providers such as hospitals and schools will be able to avail of a one GigaBit (1000 Mbps) internet connection.
Research published earlier in the year revealed that County Wexford has worst average broadband speeds in the country at just 8.3megabits per second (Mbps)*. As a result SIRO will transform the internet experience of SMEs, remote workers and consumers in Wexford town with its GigaBit connectivity. For example, a high definition film (4GB) takes one hour to download with a 10mbps connection – with SIRO it will take 30 seconds.
Wexford town is the first of three towns in the county that will be included in the first phase of SIRO's rollout. Enniscorthy and Gorey will also be connected to SIRO's 100% fibre-optic broadband network. A second phase including 320 smaller towns and villages across Ireland is also being considered.
Officially launching the event, Minister of State Paul Kehoe TD said,
"SIRO's announcement today is a major milestone for Wexford as it will put the town on a par with cities like Hong Kong and Tokyo in terms of internet connectivity.
Enniscorthy and Gorey's inclusion in the first phase of the rollout is also a massive boost as it will help to attract jobs and investment to Co. Wexford in the future. This, coupled with the National Broadband Plan which will address rural areas in the county, will be a real differentiator for the county."
Wexford Mayor Cllr. Ger Carthy, added,
"I am delighted that work is underway on SIRO's rollout in Wexford and that services will soon be available in the town. SIRO will bring massive benefits to the town by letting residents experience the internet services of the future in areas like education, remote working and health before other parts of the country.
As a result, we will be able to attract more people back to Wexford to live and encourage people to set up businesses here rather than in Dublin. Similarly we will empower our young people to fulfil their ambitions by giving them access to the best online educational resources and giving them the skills to create the next Facebook and Google here in Wexford."
Speaking at the event, Karl Fitzpatrick, President of Wexford Chamber of Commerce, also said,
"Today our digital infrastructure is every bit as important as our physical infrastructure. It is critical that Wexford possesses the technological capabilities to ensure that our existing businesses can compete internationally and also to attract new companies to locate in the County. Therefore, I very much welcome the roll out of SIRO in Wexford and the benefits which this fibre broadband network will deliver for our business community."
Sean Atkinson, CEO of SIRO, told attendees at the launch,
"We are delighted to begin our rollout in Wexford, with plans to connect Enniscorthy and Gorey in the future. This is the moment life in Wexford changes forever.
What we are launching today is broadband at its best as SIRO is a custom built 100% fibre optic network powered by light, with no copper connection that would slow the service. This will have as big an impact as rural electrification, leaving a last legacy in Wexford."
All homeowners and businesspeople in Wexford town who are interested in receiving updates on the rollout of SIRO should here. To see what SIRO will mean to the people of Wexford, watch their reaction here.