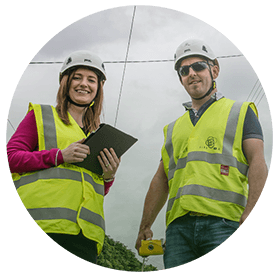 SIRO is a wholesale open access network. That means it will be available to all authorised broadband providers in the country.
Backed by two of Ireland's leading companies Vodafone and ESB, SIRO has access to €450 million in funding to roll-out the first phase of the project, with additional funding available for future investment and further phases.
SIRO's 100% fibre-to-the-building broadband network is deployed on ESB's existing overhead and underground infrastructure, ensuring a fast and cost efficient roll-out to every county in Ireland and reversing the digital divide between the capital and regional towns.
SIRO's key differentiator is that it is a custom built 100% fibre optic service powered by light, making it different and better than any other broadband infrastructure in Ireland, with no copper connection at any point in the network.
If you're an operator interested in delivering your customers a 100% fibre-to-the-building network with broadband speeds from 1000 Mbps, contact us at sales@siro.ie
If you're a developer, architect or builder and would like to enquire about SIRO services for your new development, contact us at sales@siro.ie and we'll get in touch with you.