Why The Slow, But Much Needed Death of ISDN Can't Come Soon Enough
Integrated Services Digital Network (ISDN) first began to be used globally in the 1980s. It is effectively a set of communication standards for simultaneous digital transmission of voice, video, data and other network services over the digitalised circuits of the public telephone network. However globally, even by the end of the 1980s, the technology was already being overtaken by new network systems with much faster speeds.
However, not so the case in Ireland. Here, ISDN was introduced and billed as a step change in the digitalisation of the telephone network by Telecom Eireann in 1994, with the promise of multiple direct dial numbers (DDIs) over a single shared bearer. Originally, its capability to communicate video was also a key selling feature, with one of the original users of ISDN in Ireland being Gairmscoil Éinne on Inis Mór where pupils received their German lessons from a teacher on the mainland.
FTTP is a pivot point in terms of connectivity, shifting small and medium businesses into the same tier of connectivity as enterprises
However, over time the hype of ISDN died down, and the primary use case became one of supporting Private Branch Exchange systems (PBX) for businesses of all sizes and type. The use of ISDN in the home, which was a big early Internet access mechanism in Germany and France, never really took off in Ireland. ISDN reached its' peak in Ireland in 2013, despite being long out of vogue in many countries at that stage. Since then, we have started to witness the slow death of ISDN in Ireland.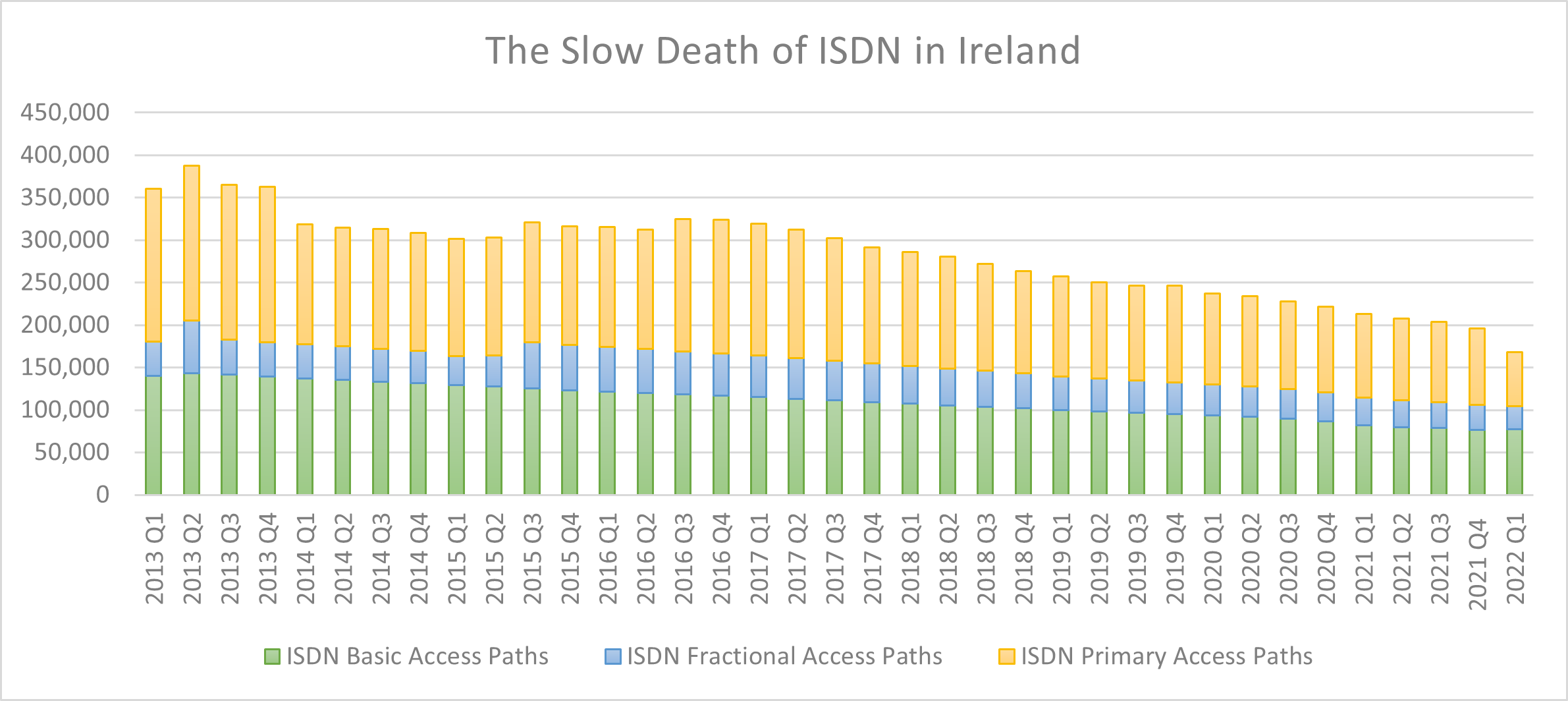 From 2017 onwards the changes in Enterprise Networks and Solutions Architecture have impacted heavily on the use of ISDN access paths.
Those key changes include:
The move to mobile phones for non-desk bound employees
Apart from the helpdesk, call centre, support teams smart organisations have been moving their employees to a mobile first culture. This has the added advantage of not only ensuring the employee is available for voice interaction, but also that other work productivity tools such as email and apps are to hand. This move from fixed (ISDN) to mobile in the business has lowered the need for an ISDN expense in many businesses.
The switch to pure IP networks, both internal and external.
The convergence of network architectures towards IP within the network, between networks and towards the Internet has provided the foundation for organisations to move to All IP services, including VoIP.
The switch to Fibre To The Premises ("FTTP")
The arrival of greater-than-Gigabit Fibre networks, such as SIRO, into the communications cabinets of businesses of all sizes has for the first time brought reliable, high quality, symmetric and unimaginable capacity connectivity at reasonable price points. A FTTP network can easily be segregated to support Voice, Data and Video securely on the same circuit without exaggerated cost. FTTP is a pivot point in terms of connectivity, shifting small and medium businesses into the same tier of connectivity as enterprises and allowing them to unlock the benefits themselves.
More complex Distributed User Requirements
COVID-19 has demonstrated the strength of business teams operating away from the office. Whether working from home, hubs or halfway down the N17, ISDN doesn't cut the mustard. It is inflexible and it connects a place rather than the person. VoIP connectivity works irrespective of location over Wi-Fi / 4G, just like people.
The arrival of Cloud PBX and SIP Trunking
Cloud PBX allows for business to treat the cost of the PBX and the 'line rental' as a monthly service fee. Sometimes as low as €5 per month per seat with continuously innovating products coming with features such as mobile clients, call centre functionality, CRM integration, real-time reporting and IP handsets that can be located anywhere in the world. While SIP trunking allows for ISDN circuits to be replaced with IP circuits, using the same FTTP connectivity that is in place to provide broadband. Many legacy PBX can be upgraded with SIP Cards, or often a SIP/ISDN convertor can be used.
End of Life of ISDN and NTU & PBX Cards
ISDN is so old that Eircom approached Comreg in 2020 seeking to end-of-life the product due to reasons including that manufacturer were no longer making the chipsets for ISDN NTU. The Comreg position was that Eircom should re-use/re-cycle NTUs pulled from the offices of ceasing customers to drag out availability of parts. Meanwhile in the UK, BT has announced the Switch off of ISDN in December 2025. The maintenance costs of legacy PBX with ISDN are increasing and the availability of parts and engineers to keep them running is declining. The risk to a business of a catastrophic fixed voice incident in these scenarios is not trivial.
ISDN is expensive. It is also duplicative. If you have ISDN for voice then you still need a FTTP broadband connection, when you have an FTTP broadband connection, however ISDN is no longer necessary for your voice services.
The Future of ISDN
The future looks increasingly bleak for ISDN. With a startlingly number, approximately 175,000 Irish voice circuits, still reliant on this much outdated technology, this is no bad thing.
Comreg announced on 29 June 2022 in its Decision Notice D05/22 that Eircom, subject to certain timing constraints, may now cease selling and cease providing ISDN services, following the deregulation of Fixed Access and Call Origination services.
FTTP rollout is accelerating, with SIRO covering over 770,000 Irish premises within 4 years.
VoIP, whether through SIP Trunks or Cloud PBX is the recognised future proof investment for fixed voice connections for businesses.
Copper Switch Off – including PSTN and ISDN – is already being deliberated upon by Comreg.
However, from a business perspective, the future is bright: The switch from ISDN to SIRO 100% Fibre Broadband, through your retailer, to enable the delivery of fixed voice to your business will:
Save your business money.
Lower your business risk of fixed voice outages and ISDN cessation.
Enable your teams to work more flexibly, fluidly and freely; and
Increase the positive intensity of your voice interactions with your customers using innovative Cloud PBX features such as CRM integration and Virtual Call Centres.