What Role Do Telecommunication SMEs Have In Sustainability?

The internet probably isn't the first thing that comes to mind when you think of sustainability. Instead, you might picture smokestacks, polluting factories, or open pit mines. However, the infrastructure operated to provide broadband requires electricity to power active network equipment and data storage facilities.  
Information and communications technology (ICT) is one of the fastest growing greenhouse gas emitting sectors, accounting for 3-5% of global emissions (European Commission 2022), which is on par with the aviation sector. The challenge of the growing energy needs of the ICT sector is being tackled by major companies setting ambitious targets. Microsoft has set a target to be carbon negative by 2030, and Intel have committed to using 100% renewable energy by 2030.  
The role of SMEs in Ireland's Sustainable Development
We can't leave it all up to the world's biggest companies, however. With market pressures, we see big companies turn on a dime and roll back their previously ambitious targets. BP's profits doubled in 2022, yet the oil and gas company reduced its emissions reduction target for 2030 down to 20-30% from its previous 35-40% target (Reuters). This is where the role of small to medium enterprises (SMEs) comes in.   
SMEs are businesses with less than 250 employees. In 2020, Ireland's SMEs accounted for 99.8% of the total number of enterprises and generated 41.9% of total turnover in the business economy (Irish SME Association). Given their critical contribution to the economy, SMEs are perfectly placed to be sustainability vanguards.  
Being small gives SMEs the advantage of agility, with the flexibility to make decisions and implement meaningful changes quickly. SMEs can have a higher exposure to sustainability-related risks compared to larger companies due to their limited influence over supply chain risks and smaller cash reserves. But they also stand to gain more, with the benefits of integrating sustainability as a core value being very clear.  
From cost savings and improved efficiencies to higher employee engagement and satisfaction, improved reputation and increased consumer satisfaction, SMEs with a clear sustainability strategy can obtain competitive advantages.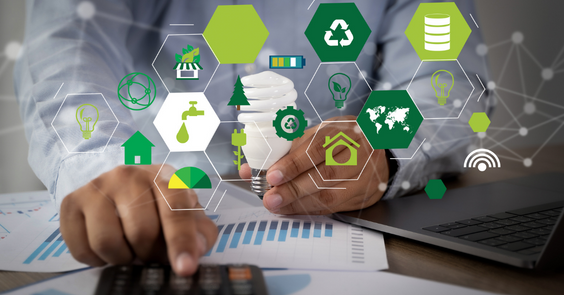 How Sustainability is a Driver of Innovation for SMEs
SIRO is an SME, and with that there are additional challenges for certain sustainability initiatives due to fewer resources and reduced internal capacity. However, these same conditions can also make SMEs fertile ground for innovation.  
Sustainable innovation differs from traditional innovation due to the equal balance given to economic, environmental, and social considerations. Sustainable innovation improves the sustainability performance of a business while simultaneously minimising its impact.  
It is becoming increasingly important that SMEs recognise the importance of sustainable innovation as a driver in differentiating their products and services, as this will ultimately improve the company's prospects in the market. Driven by social changes and cutting-edge technology, sustainable innovation in SMEs can be quickly investigated and adopted given the short pipeline between employees and decision-makers.  
Sustainability in innovation benefits everyone. For SMEs, innovation enhances their competitive edge leading to enhanced market opportunities and in turn increasing their business' resilience (which further increases the business' sustainability and so on). On the other hand, as products and services continue to improve, this positively impacts on consumers' social and economic development. Digital technology is a particularly important driver for sustainable innovation, as well as an enabler for innovations that contribute to social and economic challenges.  
For example, as SIRO's network grows, access to fibre to the home broadband  is made available to many homes and small businesses that were previously not serviced, opening digital transformation opportunities for these communities.  
Building Resilient, Reliable, And Sustainable Infrastructure
SIRO is committed to providing broadband connectivity to as many people across Ireland as possible, while improving the sustainability of our infrastructure at the same time.  
SIRO's network is being built using ESB's existing infrastructure, limiting our footprint, and removing excessive resource consumption at the design stage. Continuous innovations in fibre to the home technology increasingly contribute to a sustainable broadband future. 
SIRO is deploying an XGS-PON fibre network, technology that supports high-speed 10 gigabit per second data transfers. By delivering this now, we can avoid a future upgrade cycle, eliminating unnecessary waste and materials.  
We have embedded a future-proof approach through the delivery of XGS-PON, which also provides higher bandwidth with lower energy consumption requirements. Sustainability goes beyond just the physical footprint and environmental impact of an organisation's infrastructure however, encompassing the three pillars of environment, social and governance. 
By deploying XGS-PON we are providing greater reliability for our communities due to the absence of active network elements, improving access and affordability in an equitable way.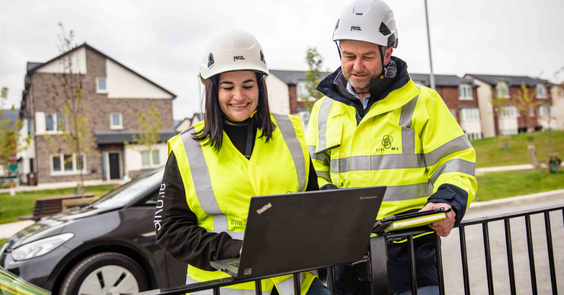 Opportunities For SMEs To Pursue Sustainability
The limited internal capacity and resources available to SMEs doesn't prevent action on sustainability, but it does require a targeted approach. You can't boil the ocean. Instead of trying to act on everything, reflect on the business' priorities by identifying what topics matter most to your stakeholders and where your business stands to make the greatest impact. A materiality assessment is a great tool to use to begin this process.  
Once you know what matters, select a limited number of meaningful goals to track your progress against, rather than spreading your resources too thin. For example, SIRO has a "Science-Based Target" which provides an option for SMEs to set an emissions reduction target that is in line with what climate science deems necessary. Finally, by focusing on transformative change and collaboration with peers, SMEs can be on the frontlines of sustainability.  
SMEs cannot afford to be unsustainable, with greater exposure to sustainability-related risks due to their size and reduced resilience compared to larger companies. Sustainability-driven innovation provides a key opportunity for SMEs to differentiate their products and services. Going further than just being value-adding, sustainability can be harnessed by SMEs to access new markets, improve consumer confidence, increase employee engagement and satisfaction, and attract and retain talent.