Top 5 Fibre Myths Busted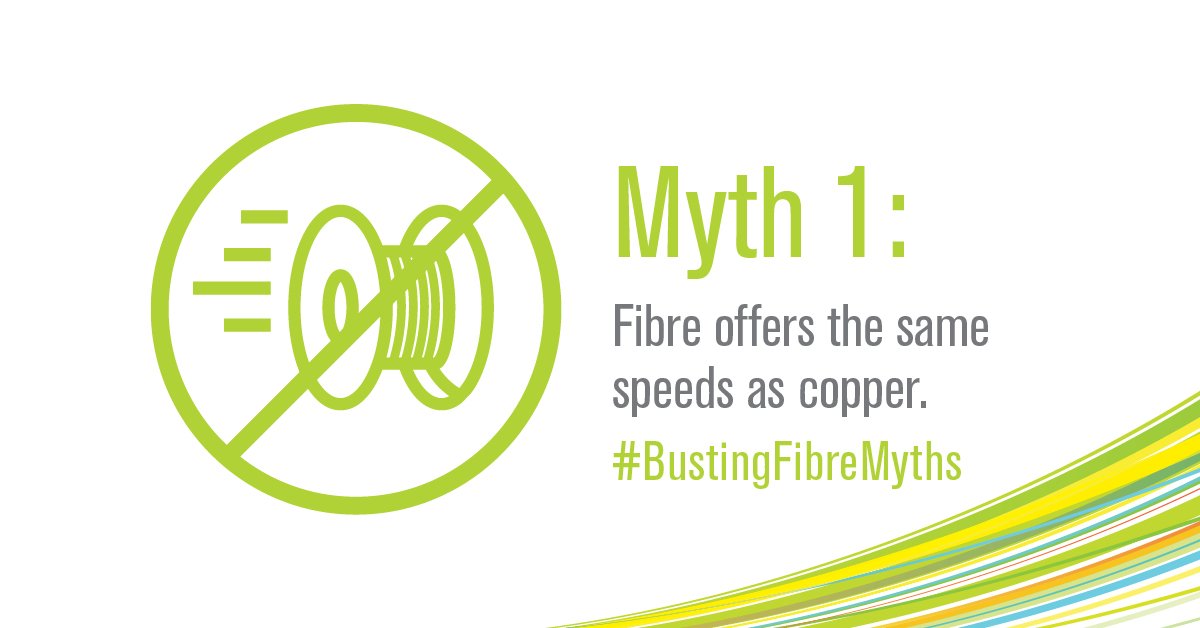 Fast, reliable broadband remains one of life's essential commodities, as we prepare ourselves for the 'new normal' world following the COVID-19 pandemic. If the search for broadband leaves you utterly confused, you are not alone. As the network provider of Ireland's first 100% fibre broadband network, we receive many queries, especially around fibre technology.
Fibre-to-the-Home (FTTH) has been recognised as the gold standard of broadband and the only future-proofed solution, however there is a still a lot of confusion around what is 100% fibre, where you can get fibre, the difference between fibre and copper, to name but a few.
In this article, we aim to debunk some of the most common myths, so that you can be more informed in your broadband search.
Myth 1: fibre offers the same speeds as copper.
If you have a fibre connection with speeds of up to 100Mbps, it is likely that your connection is not 100% fibre.
This is because speeds largely depend on the journey the signal has to take to and from your router. There are two main technologies used in fibre-optic broadband: Fibre-to-the-Cabinet (FTTC) and Fibre-to-the-Home (FTTH). In an FTTC connection, copper is used for the last few feet connecting the telephone exchange cabinet on the street and the router in your house. All the speed-of-light goodness of fibre optics is lost during this last stretch, and that's why FTTC generally delivers speeds of up to 100Mbps.
On the other hand, SIRO FTTH network connects 100% fibre optic cables all the way to your home, delivering speeds up to 1000Mbps. Fibre is faster, more reliable, and superior to copper in many ways, as it removes all the bottlenecks commonly seen in a copper network. You can connect as many devices as you like, play HD games, watch Netflix and download movies without slowing down your connection.
Myth 2: I can only get fibre in urban centres (like Dublin)
The sesismic shift towards remote working is here and here to stay, which gives us the freedom to live anywhere and work from anywhere. A common misperception is that only residents of populated towns can get fibre. In reality, SIRO is working hard to bring FTTH connectivity to regional communities all over Ireland. We are already live in 21 counties, with more than 335,000 premises connectable to the SIRO network – view our full roll-out map.
If you can live and work from anywhere, why not the scenic town of Westport, the medieval city of Kilkenny, the coastal gem of Donegal. SIRO 100% fibre broadband offers the connectivity you need to turn your dream location into the perfect office space – so why not search your dream address and see if it's SIRO-ready?
Myth 3: fibre is expensive
Depending on your area, the pricing of fibre packages is very competitive compared to traditional copper packages. We have partnered with 10 retailers to bring you a wide range of fibre broadband plans. For example, Vodafone Ireland's Gigabit Broadband plan starts at €30/month for 12 months for speeds of up to 1Gbps.
If Digiweb is available in your area, you can avail of their Electric Broadband Plan starting at €24.95/month. Sky Ireland also has a number of fibre packages ranging from €30 to €50 monthly to suit your data needs.

To avail of these offers, search your address to see what retailers are available in your area.
Myth 4: fibre requires troublesome installation
Since fibre is brought to your address using the ESB electricity network, it is very simple to install and disruption is minimal. The technician responsible for the install will take time to discuss with you the process and agree on the most suitable entry point and route for the fibre optic cable inside your home. Learn about the full installation process.
Myth 5: I need a phone line
This is a question we get asked repeatedly, and the definitive answer is that you do NOT need a phone line to avail of SIRO-powered fibre broadband. We deliver SIRO to your home via the ESB meter box – cables are inserted into ducts that already exist in the home.
The bottom line
In a nutshell, Fibre-to-the-Home is the fastest, most reliable broadband technology available,. As a network provider, we understand the need and have seen first-hand the demand for fast, reliable broadband, especially as COVID-19 continues to impact our lives in unpredecedented ways. Getting a 100% fibre connection now enables you to shape and future-proof your life however you see fit. Sounds promising? Why not search your address to see if your home is connectable to SIRO.