€14 Million Fibre Broadband Investment in Donegal By SIRO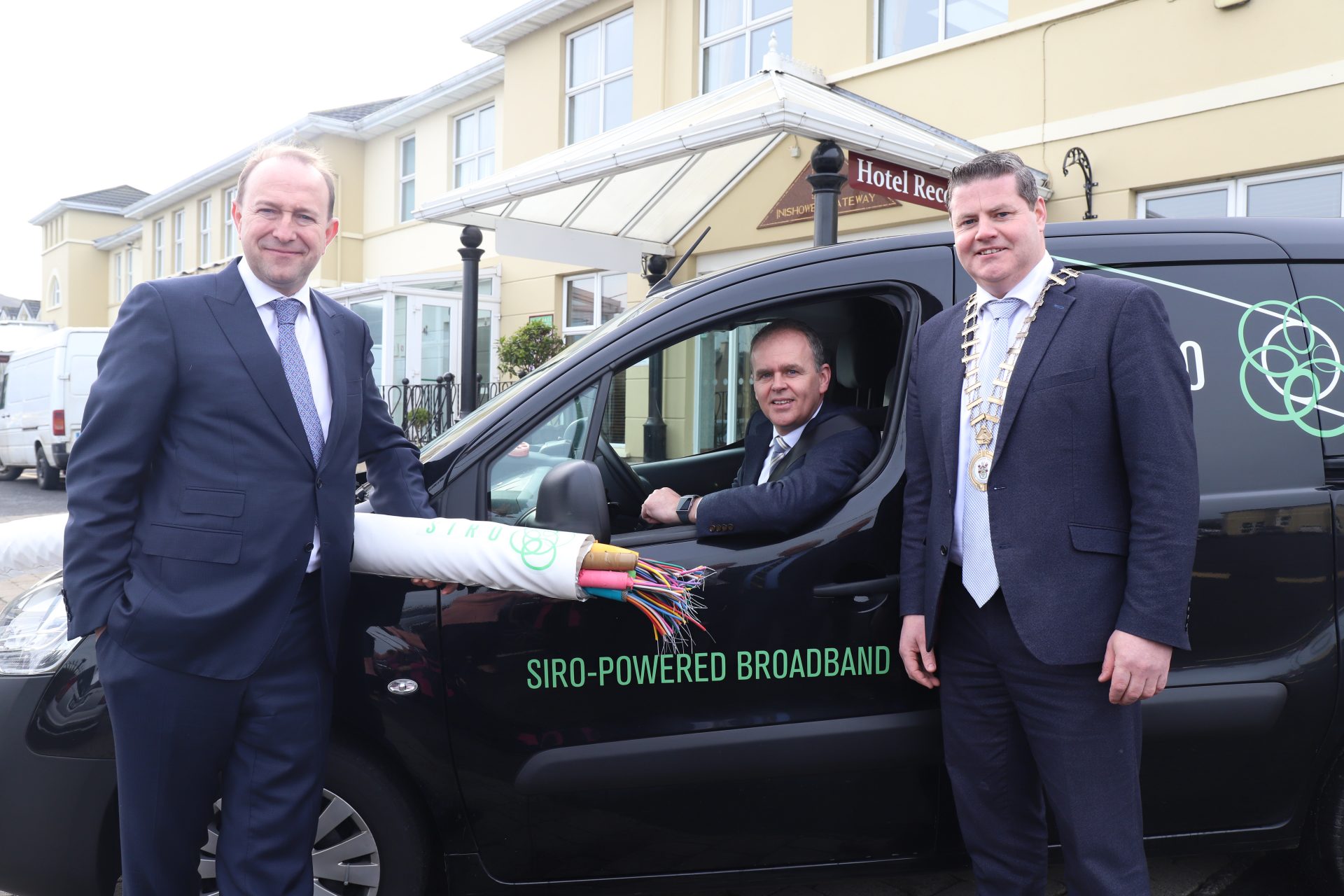 Minister for Education & Skills Joe McHugh TD has announced a new €14 million investment by SIRO in the rollout of its Fibre-to-the-Building (FTTB) broadband network to six new towns in Donegal – Buncrana, Donegal Town, Ballybofey, Stranorlar, Ballyshannon and Bundoran. This will see over 14,000 homes and premises offered access to Ireland's fastest broadband network.
Construction Begins in Buncrana
SIRO has already commenced construction, with 1,600 homes and businesses in Buncrana already able to avail of Gigabit connectivity, and preparatory works also already underway in the five other towns. All of the premises will have a 100% fibre-optic connection available, giving them access to the same level of world class broadband in cities like Hong Kong or Tokyo. Stephen O'Connor SIRO's Director of Corporate Affairs, speaks to Highland Radio.
The announcement was made by Minister McHugh at an event at Inishowen Gateway Hotel in Buncrana, held in partnership with Donegal County Council, which also saw KN Networks revealed as SIRO's construction partner for the project.
It brings SIRO's total investment in Co Donegal to €25 million, having already made services powered by the wholesale broadband operator available to 11,000 premises in Letterkenny. There has been a high level of demand already in Letterkenny, with a penetration rate of more than 25% with public interest in services powered by SIRO in Buncrana also very encouraging at this early stage.
SIRO has also committed to connect Donegal County Council's planned Digital Hub in Buncrana as part of Vodafone and SIRO's national Gigabit Hub Initiative, which offers a 1 Gigabit (1,000 Mbps or Megabits per second) broadband connection to qualifying business hubs in regional towns.
SIRO rollout expanding from regional towns
SIRO's rollout originally focused on 50 regional towns, each with over 4,000 premises, across the country. The addition of these six smaller towns to SIRO's rollout is a pilot for a potential future second phase, which could see the rollout of SIRO's 100% fibre-optic network expanded further.
Commenting about the Donegal rollout, Minister for Education & Skills Joe McHugh TD said: "The Government has been actively encouraging the private sector to invest in delivering high speed broadband to regions across Ireland and today's announcement is an example of that strategy paying off for Donegal. The investment by SIRO will see the construction in six towns of a Fibre-to-the-Building broadband network, which is recognised as the gold standard for broadband internationally, and is to be applauded. Residents and businesses in Buncrana, Donegal, Ballybofey, Stranorlar, Ballyshannon and Bundoran will have access to the level of connectivity that is available in Tokyo and Hong Kong, so these towns will stand at the top of Ireland's broadband league."
Cllr Seamus O'Domhnaill, Cathaoirleach of Donegal County Council, said: "Broadband is as vital for day-to-day life as electricity and is an absolute necessity for social and economic development in Donegal. Following the successful launch of services powered by SIRO in Letterkenny, the Council has worked very closely with the company to encourage them to invest further and expand their rollout to additional towns, as well as committing to powering the Inishowen Innovation Hub as part of the Gigabit Hubs initiative.  This is a great day for Donegal and we're very proud to see the Council's efforts paying off to deliver this milestone."
Stephen O'Connor, SIRO's Director of Corporate Affairs added: "SIRO has formed a close partnership with Donegal County Council, which has been critical to adding these extra six towns to our network following our original successful launch in Letterkenny. Construction is well underway, with services already live in Buncrana. Simply put, this will have a transformational effect as all 25,000 homes and businesses will have access to Gigabit broadband, which is the international gold standard for broadband connectivity."
SIRO is Expanding the Gigabit Hub Initiative
As part of its expanded rollout in Donegal, SIRO has put out a call to business centres in the six towns to register their interest in participating in the Gigabit Hub Initiative, which is run in partnership with Vodafone. The initiative aims to spark a digital transformation by providing Gigabit connectivity to qualifying hubs free of charge for two years. The recipients will receive a 1 Gigabit broadband connection from Vodafone which is powered by SIRO's 100% fibre-optic network. The aim of the initiative is to replicate the success of the Ludgate Hub in Skibbereen which is on course to help create 500 jobs in the West Cork region over the next five years.