Sligo Is Fibre Ready Already
Today we have launched a new campaign in Sligo town 'You're Fibre Ready Already,' focusing on our full fibre broadband network in the town. Our fast, reliable and trusted broadband is available to over 8,000 premises – homes and businesses – across the town. The campaign will run for five weeks from 11 September to mid-October.
For Sligo residents frustrated by poor connectivity or slow broadband speeds, the campaign's key message is you may be one of the more than 18,000 Sligo town residents who can already avail of SIRO fibre broadband. Areas in Sligo town covered by SIRO's full fibre broadband network include (but are not limited to): Strandhill Road, Hawthorn Avenue, Ballydoogan Road, Treacy Avenue, Ard na Veigh, Clara Court, Wolfe Tone Street, John Street, Grattan Street, Market Street, Chapel Street, Abbeyville Park, Garvoge Villas, Doorly Park Road, Yeats Heights.
How to find out if your home is available to connect to SIRO.
On-the-ground campaign activations in Sligo include SIRO-branded bus shelters, advertising in local shopping centres and SIRO-branded fibre cabinets. All will display a QR code, which when scanned with your phone brings individuals to a dedicated Sligo town page. From here, residents are able to learn more about the benefits of switching to the SIRO network and search their eircode to see if SIRO is available. You will be able to access detailed information on the retailers they can order fibre broadband from, as well as their varying offers and prices. They can then choose their preferred retailer and contact them to place an order to avail of SIRO broadband.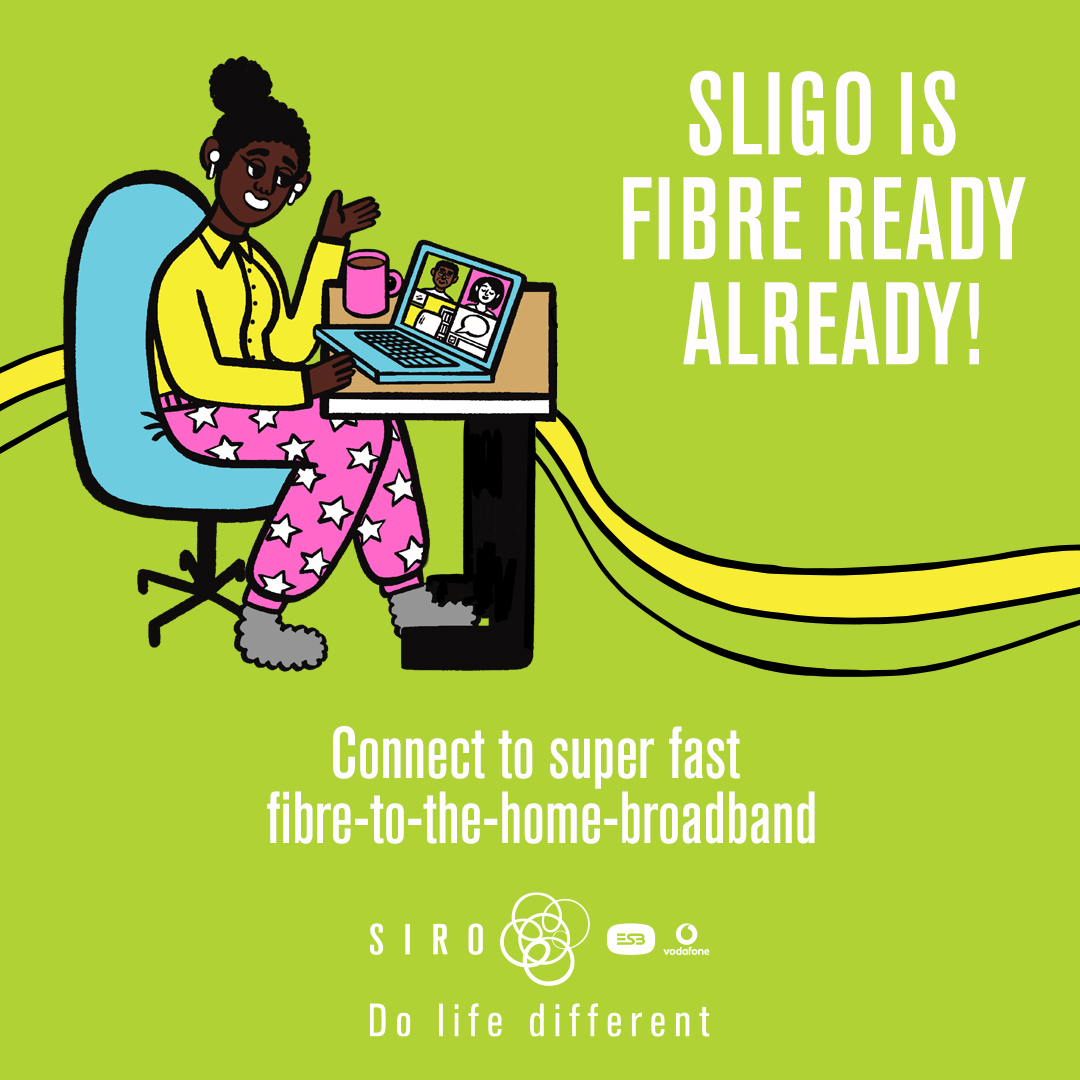 As SIRO is a wholesale broadband provider, consumers and businesses in Sligo town can order their full fibre broadband from one of SIRO's twenty retail partners, including Virgin Media, Vodafone, Sky, Digiweb, Pure Telecom, Fastcom, Airwire and Blacknight Solutions.
SIRO is a joint venture company between ESB and Vodafone, founded in 2015, focused on delivering full fibre broadband to Ireland's towns and cities. SIRO's fibre broadband network is built on the ESB electricity infrastructure, trusted for its reliability and resilience.
To date nationally, SIRO's network is available to 520,000 premises in 135 towns across Ireland, with the company on track to reach over 700,000 premises by 2026.
Commenting on the Sligo campaign, SIRO Chief Commercial Officer, Ronan Whelan, said:
"Reliable and fast broadband is now a non-negotiable part of our lives. When you enjoy seamless broadband, you quickly forget how frustrating poor connectivity can be. But when your broadband is slow, buffers or lags, it's not just extremely frustrating; it hinders your ability to carry out essential tasks such as studying online, watch a movie seamlessly or running your business effectively.

"SIRO has an extensive fibre network already available on the ground across Sligo town. So, our message for those suffering from poor broadband in Sligo town is simple – see for yourself what better broadband feels like!

"Find out today on SIRO.ie  if you are one of the more than 8,000 Sligo town premises that can avail of Ireland's most advanced broadband network. You could be just a few clicks away from ending your connectivity headaches," added Mr. Whelan.
To find out if SIRO broadband is available to you, search your Eircode today.