SIRO's Full Fibre Broadband On The Way For Youghal Homes And Businesses
Today we are happy to announce that build works are underway for homes and businesses in Youghal to bring full fibre broadband to the town later this year.
Our fibre broadband will bring reliable, high-speed connectivity to over 3,000 homes and businesses in Youghal. The build works in the area, carried out on behalf of SIRO by build contractor CBE, commenced during the summer, with the works set to complete early next year.
Areas in Youghal which will benefit from the roll out include (but are not limited to): Radharc na Mara, Kilcoran Place, Upper Strand Road, Meadowvalley, Chestnut Drive, Shanavine, Seafield, Rectory Road, Carleton Village, Bay View Grove, The Estuary, Cnoc Aoibhinn and Quarry Vale.
Homes and businesses in Youghal will be able to order SIRO from one of its many retailer partners, including Virgin Media, Vodafone, Sky, Digiweb, Pure Telecom, Blacknight Solutions and Fastcom.
The build works in Youghal are being undertaken by contractor, CBE, on behalf of SIRO. Portuguese-founded CBE now employs a significant local workforce in Cork. CBE have successfully partnered with SIRO, since 2017, on its full fibre broadband network rollout across Ireland. This work includes over 100,000 premises with 44,000 in Cork alone.
Towns that can already avail of SIRO in Cork include Ballincollig, Carrigaline, Carrigtwohill, Cork City, Little Island, Mallow, Midleton, Passage West and Skibbereen.
We are currently rolling out to a number of further Cork County towns which are already under construction or due to commence later this year such as Bandon, Fermoy and Kinsale.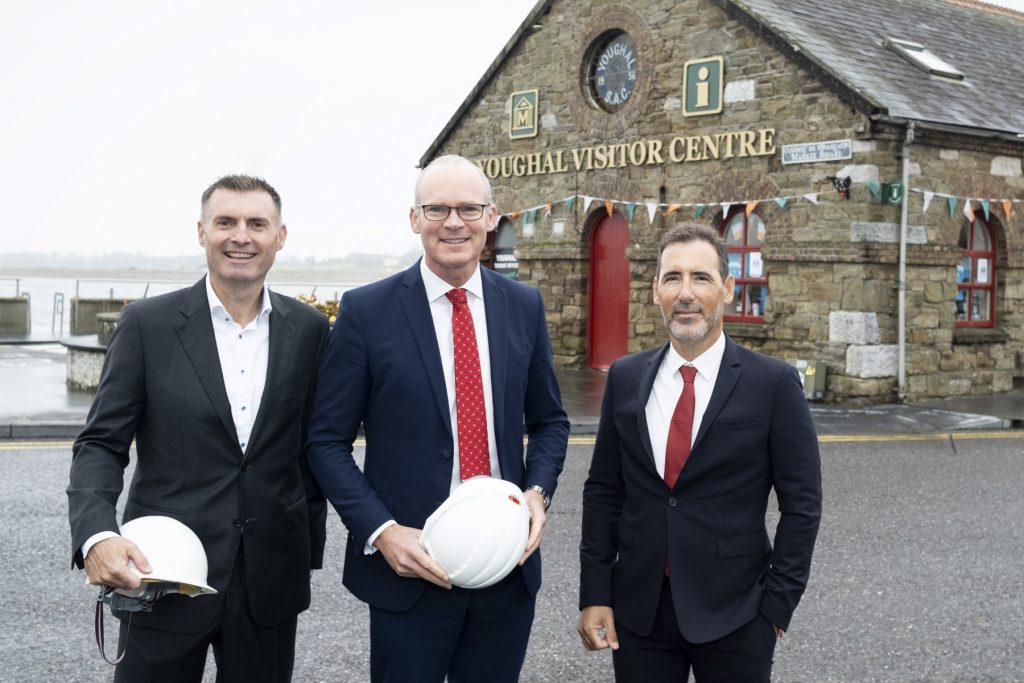 SIRO is a joint venture between ESB and Vodafone delivering full fibre broadband to towns and cities across Ireland. The company's network uses the existing ESB electricity network to bring connectivity to the hearth of homes and businesses. To date, SIRO's fibre broadband network is available to over 520,000 premises in more than 135 towns across Ireland, including over 60,000 premises across Cork city and county. The company is on track to deliver full fibre broadband to over 700,000 premises by 2026.
Our full fibre network can provide speeds of up to 2 Gigabits per second for residential customers and up to 10 Gigabits per second for business and enterprise customers.
Launching SIRO's Youghal network, Minister for Enterprise, Trade and Employment, Simon Coveney TD, noted that:
"The rollout will have a transformative effect on Youghal as Fibre-to-the-Building is recognised as the gold standard for broadband internationally. As a result, this will give Youghal businesses a head start against their peers both at home and internationally, as well as giving homes access to the latest innovative digital services. This substantial investment by SIRO is another sign of how Government has encouraged investment by the private sector to boost our broadband capability."
Commenting on the announcement, SIRO CEO John Keaney said:
"Fast and resilient connectivity is the cornerstone of how we all now live and work.

"Having a full fibre network outside your door, gives the community of Youghal – homes and businesses – a resource that enables and empowers their community to live sustainably, thrive economically and attract investment into the town.

"The arrival of SIRO's fibre broadband to Youghal will hugely benefit the local community ensuring they have a connection which is reliable, high-speed and future-proofed.

"We are pleased with the progress made so far on building out our network in Youghal, with our contract partner CBE, and looking forward to our service becoming available to order by the end of this year," added Mr. Keaney.
For further information on CBE's work, please visit their website http://www.cbe.pt/
To connect to SIRO's broadband network register your interest here.