SIRO's 1 Gigabit Fibre Broadband Roll-out in Waterford City to Reach 9,000 Homes and Businesses by End 2021.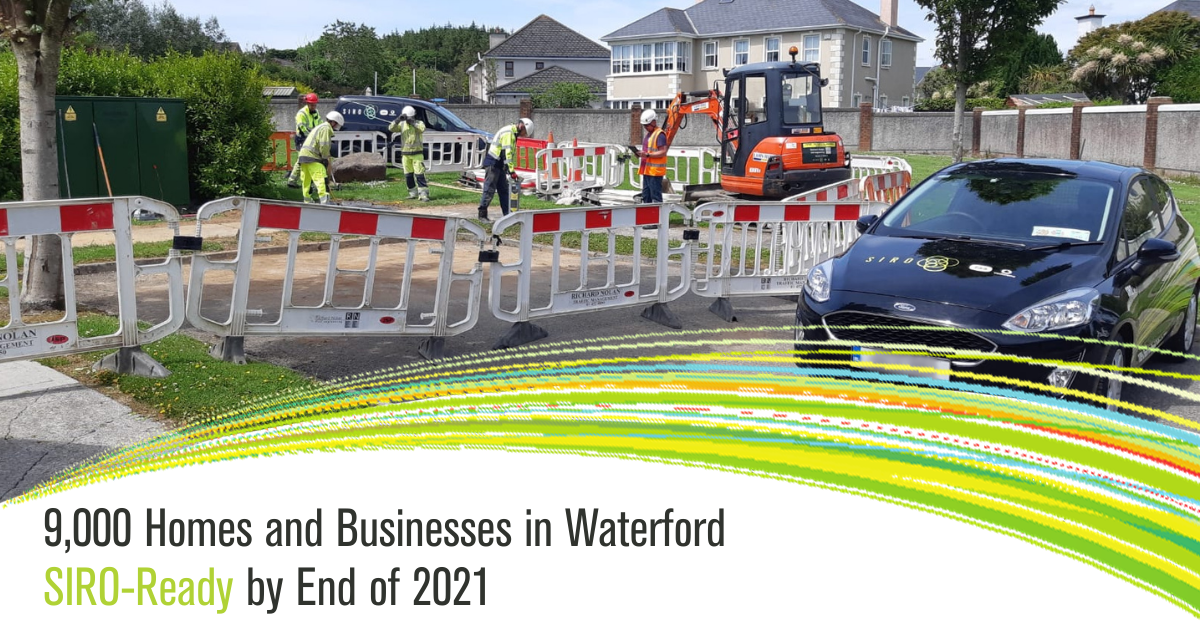 Fibre broadband wholesaler, SIRO, a joint venture between ESB and Vodafone, which is rolling out a new 100% fibre network across Ireland, today confirmed that the company is on target to pass over 9,000 homes and businesses across Waterford city by the end of the year. The company also confirmed that SIRO will have invested €7.5 million by end 2021 as part of its' Waterford city roll-out programme, bringing 1 Gigabit fibre broadband to homes and businesses.
Access to high quality fibre broadband will provide city residents with a fit for purpose alterative to outdated and slower copper connections which many are still forced to rely on across the city. SIRO commenced its' fibre broadband roll-out in Waterford city less than two years ago, in September 2019. The company's fibre roll-out is ongoing, but to date it has passed premises in areas of the city such as Ferrybank, Ballybricken, Gracedieu, Lismore with plans to roll-out to additional areas such as Templar's Hall and Foxwood by the end of year.
SIRO has to date rolled out fibre broadband to 64 towns across Ireland, passing almost 400,000 homes and businesses in the process. The company's fibre broadband network utilises the ESB's existing electrical network, ensuring greater reliability and a reuse of existing infrastructure. Having both ESB and Vodafone as joint venture partners, allows SIRO to draw on both ESB's heritage and on-the-ground knowledge and Vodafone's telecoms expertise to roll out its fibre network. SIRO's network is 100% fibre and delivered all the way into each home or business. Fibre broadband is the highest standard of broadband available and ensures higher speeds, superior quality and reliability, far beyond what copper connections being phased out across the world can offer.
As working remotely, online schooling or shopping became a requirement during COVID-19 lockdowns, demand for SIRO's fibre broadband has grown substantially amongst householders. Equally, with increased numbers of businesses across Ireland forced to close during three lockdowns, many pivoted online to ensure they could either continue to trade or increase their share of online sales.
The company believes there is a significant pent-up demand for reliable fibre broadband in the South-East region, citing a recent Enterprise Ireland survey which shows 57% of workers surveyed from the region were seeking "availability of high-speed broadband.
SIRO CEO John Keaney commenting on the company's investment in Waterford city noted:
"SIRO is investing €7.5 million in its' fibre broadband roll-out across Waterford city to end 2021 in recognition of the city's importance as a growing commercial centre and the city's potential for further significant economic development and job creation.
Digital connectivity, unlocked through the availability of reliable, high quality fibre broadband which meets the demands of business and, now standard, multiple-device households, is essential to the city's future growth and post-COVID-19 recovery.
Fibre broadband is critical for Ireland's regions to prosper, act as a counterbalance to larger cities such as Dublin or Cork and give people the option to work and live close to home. Research, particularly since COVID-19, shows people want to work locally or hybrid work provided they have access to a high speed and reliable broadband connection. Meeting this demand is, put simply, exactly what SIRO's Waterford city roll-out is seeking to address,"
SIRO also notes the ambitious plans for the development of the city, such as through the Waterford 2040 – Find Your Future campaign aiming to decarbonise the city by 2040 or the Waterford County and City Council Development Plan, both of which have been developed by city civic and business leaders. These plans aim to grow the economic footprint of the city but also to create a city which is more sustainable and greener.
According to John Keaney, SIRO's fibre broadband network will provide a key foundation for these proposals, he noted:
"COVID-19 has shown that we don't need to be stuck in our cars for hours on end, travelling long distances to work each day. Working from anywhere, whether our homes or a hub, is now feasible. This will do a lot to take cars off our streets, reduce carbon emissions and attract people back into our urban areas, but as more sustainable working and recreational spaces for workers and families.
As SIRO's fibre broadband roll-out in Waterford city accelerates, replacing out-dated copper connections, there is a further environmental return – with fibre 60% more energy efficient than copper. It also provides a future proofed broadband network primed to meet ever increasing data demands within the city over the years ahead."
The company is urging all city homeowners and businesses struggling with online connectivity to check if fibre broadband is now available in their area.