SIRO Digital Leaders Series 2022: SIRO Chats with Barry Lowry, Irish Government Chief Information Officer

Barry has spent over thirty-five years working in ICT. He started as a Trainee Programmer in the Northern Ireland Civil Service and progressed through various roles to eventually become the Director of ICT Shared Services and Strategy for the NI Government. Barry has been CIO for the Irish Government since April 2016 with the primary task of taking forward the Public Service ICT and eGovernment Strategies. These set out ambitions for developing the use of shared services, digital services and data to better serve the people of Ireland and ensure that Ireland is well-placed to benefit from European initiatives such as the Digital Single Market.
Tell us about your role?
The Office of the Government Chief Information Officer (OGCIO) leads the digital agenda across Government, working in collaboration with organisations across the Civil and Public Service.
OGCIO's most recent Strategy, Connecting Government 2030: A Digital and ICT Strategy for Ireland's Public Service, sets out the Government's Digital Vision for the next several years, covering areas such as digital ambition, talent development, and inclusion.
OGCIO is also involved in the delivery of major Government technical projects such as the Contact Tracing App and Digital COVID certificate, and a range of shared initiatives and systems.
OGCIO participates in a range of internal, national and international working groups, steering and programme boards; has significant engagement with multilateral institutions including the OECD, UN and in particular the EU; and also plays a leadership role on innovation across the Public Service including through the development and application of a range of ICT policies.
Outline the role digital technologies play delivering public service today.
As the Government Chief Information Officer, I am the most senior advisor to the Government on all matters digital with specific reporting responsibilities to the Minister for Public Expenditure and Reform and the Junior Minister for eGovernment and Procurement. I played a prominent role in the development of the National Digital Strategy, Harnessing Digital – The Digital Ireland Framework, which was published in February and sets out a high-level pathway to support Ireland's ambition to be a digital leader at the heart of European and global digital developments.
I also represent Ireland at many high-level meetings at EU and OECD level seeking to shape the digital agendas of these organisations; and I am involved in the leadership of many programmes with a substantial digital or ICT element, for example Gov.ie, MyGovID, Open Data, the Data Sharing & Governance Act, the Contact Tracing App, and the Vaccination roll-out.
What are the key benefits that digital technologies can bring to society and business?
At public service level, we believe that digital can benefit all of society. We can facilitate those who are comfortable with digital technology to renew their driving licence, or make a tax enquiry, for example, with the same ease as booking an airline ticket or making a banking transaction.
However, we also believe that if we achieve our goal of 90% of our most used services being consumed online then this will free up resources to better serve those who are unable to use the digital offerings.
"At community level we see the benefit of having more community-driven digital initiatives from group learning to accessing the technology itself."
We believe that the ability to do anything from the home shouldn't detract from the importance of socialising and maintaining the value of communities in our lives. This is why many government digital initiatives, including broadband roll-out and digital hubs, are community-oriented."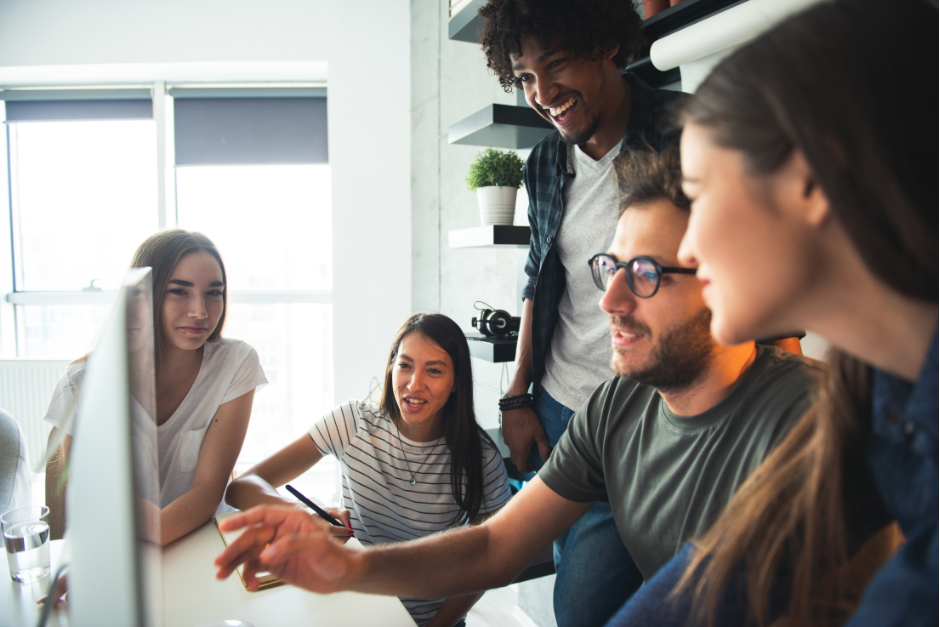 As connectivity improves across Ireland, what do you see as the big opportunities for Irish businesses from accelerated digital adaptation?
I think we all accept that going online can and does bring advantages to businesses, e.g., lower operating costs, 24/7 presence and greater out-reach. However, CSO research tells us that, while more than four in five Irish-based businesses have a website, only 40 per cent actually sell online. This means that there is an opportunity not just for businesses but also for national reputation and GDP growth.
This is why the Harnessing Digital strategy sets challenging business targets for 2030 such as 75% enterprise take-up of Cloud, Big Data and AI; and 90% of SMEs at basic digital intensity. It also makes financial and advisory support commitments to help this to be achieved.
"It is very clear that the pandemic has opened up new commercial opportunities and these should be exploited. Ireland's acceleration towards full and fast connectivity will provide a strong foundation to build upon."
For businesses to maximise benefits from digital technologies, what key advice would you give?
I could write pages on this but will stick to three things.
First, it all has to start with the customer. As (even) Steve Jobs famously said "'You've got to start with the customer experience and work backwards to the technology." In Government, we have learned a lot from consulting our customers and from our research work with Trinity Business School. Again, the pandemic experience proved that the public will gladly use Digital Government services that are simple, intuitive and customer focused.
Then, the service has to be built with privacy and security at the centre. Thankfully in Ireland we have several excellent security companies that can help with this. Alternatively, examine cloud-based approaches to benefit from the security and support skills of the experts who are doing this stuff every day.
Finally, ensure you have built in a feedback loop to help you understand how the service is really working and to rectify teething problems.
Looking to take your business to the next level with a reliable broadband connection? Search Your Eircode today.