SIRO Broadband Usage Over Christmas – Even Santa Needs Gigabit Broadband

The Christmas and New Year holiday period is always the busiest time for broadband networks – 2020 was no exception especially as the looming Lockdown 3.0 led to an exponential increase in movies streaming, online gaming, Zoom calls and other virtual activities.
As expected, there was a significant increase in demand over the Christmas holiday period. A new high occurred on 25th December with 22.7GB of data on average being consumed by each subscriber. As of the 6th of January, current consumption rates remained steady at 20GB of data – the normal consumption of an average weekend during the latter half of 2020.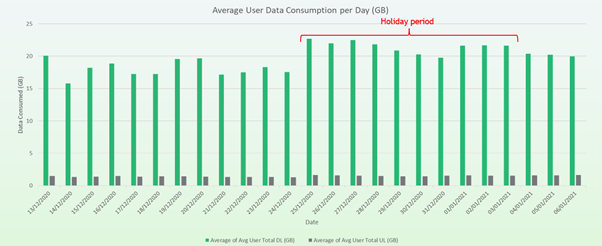 On Christmas Day in particular, we observed a significantly large ramp up in data demand between the hours of 6am to 9.30am. Such usage would not normally be reached until the early afternoon of a normal day. One potential reason is the strong demand for gaming console updates – sometimes Santa is careless and leaves this for parents to do early on Christmas morning. Another could be the Zoom calls all over the world from Irish families – Christmas 2020 was a virtual family reunion for the many people who could not make it home due to the pandemic.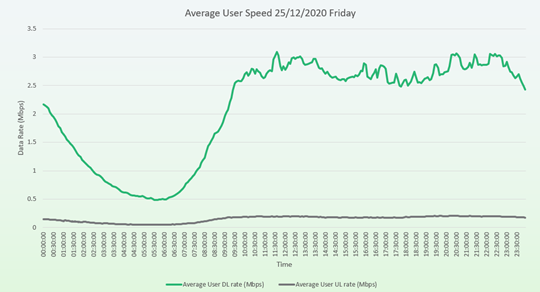 2020 might not have been the ideal Christmas holiday, but having strong, reliable broadband truly enabled us to spend some much-needed quality time with our families, whether they are by our side or at the other side of the world. Let us remember the people behind the network, the men and women who spend months and years planning, designing, building and installing the SIRO gold-standard 100% fibre broadband in tens of thousands of Irish homes, and have continued to do so during the pandemic.
As we begin 2021 with yet another lockdown, we would like to reiterate our commitment as an Essential Service to bring SIRO to as many people as possible. We will continue to operate under strict protocols to deliver Gigabit speeds for all your remote working, studying and entertainment needs.
Search your Eircode to find out if your address is SIRO-ready.