SIRO and Vodafone Announce Connectivity Partnership With Galway's Latest Innovation Hub
SIRO and Vodafone have today announced a connectivity partnership with Galway's CREW, Creative Enterprise, and Innovation Hub, a new shared and own-door enterprise space for businesses in the creative digital enterprise sector that is scheduled to open in early 2024. CREW will join Vodafone-SIRO's GigaBitHub Initiative, which provides world class Gigabit full fibre broadband connectivity to digital hubs across Ireland.
The CREW (Creative Enterprise West) Enterprise Hub will support enterprises in the CREA-Tech sector, defined as where creativity meets technology. The sector includes digital design, film and TV production, virtual production, animation, gaming, content development and immersive technologies. It is estimated that there are already 3,000 businesses working in this sector in the West of Ireland. Seizing the opportunity to grow the sector and jobs within it further is a key focus for government.
The CREW Creative Enterprise Hub will provide individual office spaces, co-working spaces and hot desks for 160 people working within the CreaTech sector; offer incubation and accelerator programmes; and offer wider outreach services beyond the Hub across the Atlantic region.
CREW have already confirmed several high-profile clients who will base themselves at the Creative Enterprise Hub, Ireland's first Hub dedicated to this sector, these include Screen Ireland, the national development agency for the Irish film, television and animation industry, Ardán, which supports individuals within the film, TV, games and animation industries and global animation company, Triggerfish.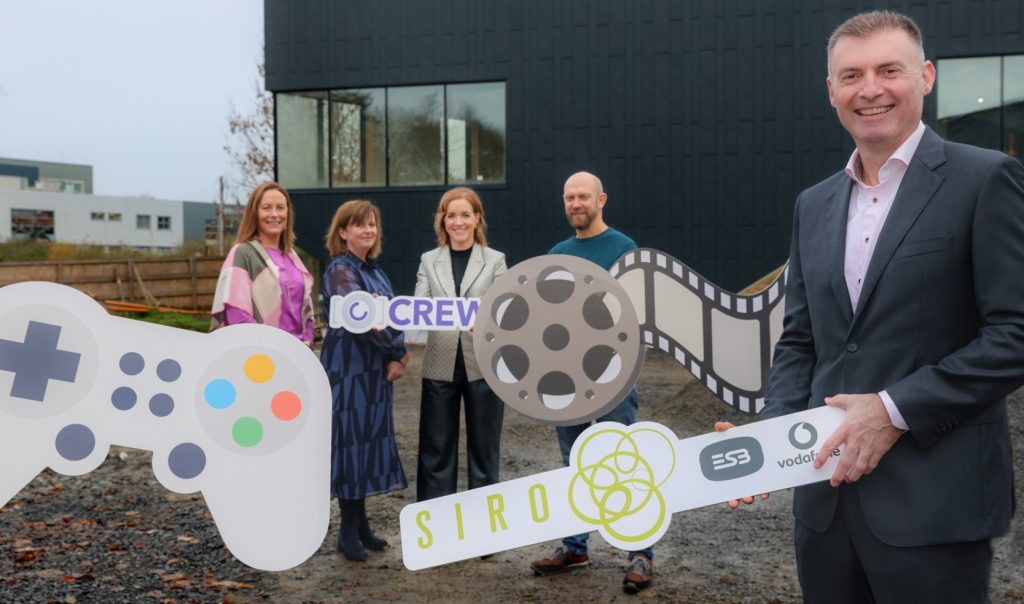 There are a number of offices and desks available for startup companies, SME's and individuals wishing to base themselves at CREW.
CREW "Creative Enterprise West" is a collaborative initiative led by Atlantic Technological University's School of Design and Creative Arts (ATU Galway City, Wellpark Road), the Western Development Commission (WDC) and Ardán. Funding for the hub was received from Enterprise Ireland (EI) through the Regional Enterprise Development Fund.
The Hub, which is expected to open early in 2024, is a new purpose-built facility located on the Atlantic Technological University (ATU) Galway City (Wellpark Rd) campus, just one mile from Galway city centre.
Vodafone-SIRO's GigaBitHub Initiative is centred on providing reliable, resilient and future proofed connectivity to digital hubs across Ireland. It empowers hubs by providing them with high-speed, high-quality full fibre broadband.
The GigaBitHub Initiative commenced in 2016 with the aim of enabling remote working and digital hubs with broadband connectivity, allowing both the hub and their users to run and grow their businesses seamlessly. Since then, the Initiative has partnered with 21 hubs in every corner of Ireland, from Ludgate Hub in Skibbereen to The Base in Stranolar in Donegal. CREW will be the third Galway hub to join the Initiative, with PorterShed in Galway City and Comworks in Loughrea already members.
Commenting on the Vodafone-SIRO connectivity partnership CREW CEO, Niamh Costello, said: 
"CREW's Creative Enterprise and Innovation Hub is set to be a game-changer for the CREA-Tech sector in Galway and the West. With world-class connectivity provided by SIRO and Vodafone, our members will have the tools they need to drive innovation, collaboration, and growth in this fast-growing industry.

"We look forward to working with SIRO and Vodafone to elevate Ireland's Creative Industries sector as a global frontrunner. This collaboration empowers our members with the essential connectivity resources and networks to thrive on a world stage."
Vodafone Ireland Network Director, Sheila Kavanagh, stated:
"Since our Gigabit Hubs initiative started in 2017, we have welcomed its impact as the hubs have made significant contributions to the local economies and communities in which they operate.

"Our latest connectivity partnership with Galway's CREW Innovation Hub, will further build on the opportunities available to the people of Galway, ensuring that they can pursue their CREA-Tech careers within the area they are from and can benefit from a better work life balance."
SIRO CEO, John Keaney, said:
"Galway has always been synonymous with both the creative arts and a strong tech sector, so it is really fitting that the city will now have a dedicated creative enterprise hub to further develop and grow this sector.

"The CREW Hub will help elevate the West's creative industries sector empowering individual and businesses to unlock the opportunities enabled by digital technologies. This includes developing new creative technologies, collaborating remotely with other enterprises and reaching wider global audiences. The SIRO-Vodafone partnership we are announcing today will provide the connectivity foundation which makes these ambitions possible," added Mr. Keaney.
For more on CREW, visit: www.CrewDigital.ie  
SIRO is currently accepting applications for GigaBitHub applications within our network footprint. For more information, please visit https://siro.ie/about-us/gigabit-hubs/