Lorraine Gribbons of Fastcom on National Women's Enterprise Day 2023
Thursday 19th of October marks National Women's Enterprise Day. This enterprise event promotes, encourages and stimulates female entrepreneurship across Ireland. In celebration of National Women's Enterprise Day, we spoke to Lorraine Gribbons, Managing Director at Fastcom, who talks us through the challenges and rewards of her journey as an entrepreneur.
Background of Business
Founded in 2004, Fastcom is one of Ireland's largest independently owned telecoms providers with customers across Ireland, the UK, Europe, and the US. The company partners with over ten infrastructure providers to offer the widest range of broadband connectivity and communications solutions to customers in various sectors, including government, healthcare, retail, logistics, and education. Fastcom is one of SIRO's retail partners and has over 1,500 customers across Ireland.
Tell us about your business?
Our business is Fastcom Broadband, a telecoms provider based in Sligo and serving customers across the country. We serve the business and domestic markets, providing broadband, phone and cyber security services. We have a huge range of customers of various sizes and operating in many different industries. We cater for all and can provide the flexibility that many of our larger competitors cannot, especially for our business customers.
What motivated you to start your own business?
My husband, Ross, started Fastcom back in 2004. I was working in Dublin training with KPMG to be a Chartered Accountant at the time. I moved back to Sligo and worked in an accountancy practice as a manager for several years before joining Fastcom in 2016. I was always involved in the background from when the business was set up, taking the next step to become CEO was the next step for me. It has been so personally rewarding to see Fastcom grow throughout the years to where we are now.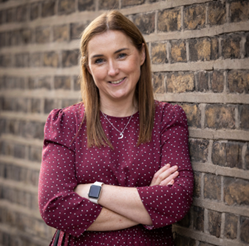 What has been the biggest challenge or learning for you?
I suppose my biggest challenge was that I was an accountant and not a "techie" and was operating in a very technical industry. In my training as a Chartered Accountant, I would have seen a wide range of clients, so I had great exposure on the side of running a business. Still, it did take me a while to get my head around the technical side of the business. We are fortunate to have a great team here now who have the expertise and skills necessary to keep that side running smoothly all the time.
What advice would you give women thinking about starting their own business?
I think just to go for it. If starting a business and working for yourself is something you are passionate about, you have to give it a go. It can be tricky sometimes, but the rewards are more than worth it.
Finally, as a company's CEO providing broadband connectivity, what are the key ways technology can help women in business?
One key element is the flexibility it can provide for working. Everyone experienced that when COVID hit, and we all had to make the shift and work remotely from what we would all have known as a standard office environment.
Connectivity unlocks technology that can make all our lives easier. From the perspective of running a business and juggling all the responsibilities that come with that have a secure fibre broadband connection is a first step.
From there, there are multiple digital tools which can help to enhance your productivity and allowing you to focus on business priorities vs. getting weighed down with important but time-consuming administrative tasks. AI is just one really exciting tool which is now beginning to gain traction and become embedded in business, and which is likely to really change how business operates – but in a positive way!
To read more on SIRO's sustainability efforts and how we encourage equity in the workplace, click here.