FTTH Council Europe Unveils 2020 Fibre Market Panorama and European Ranking

"The Fibre To The Home (FTTH) Council has published its annual EU Market Panorama today with encouraging news for Ireland.
Ireland's FTTH now covers 700,000 homes (more than one third of the housing stock) up from 400,000 last year and Ireland is cited in the report as having the second highest growth rate (70%) of homes passed in the EU 28. With 145,000 subscriptions Ireland now has almost 8% of households actually connected to FTTH doubling its rate of 3.8% last year. This has moved Ireland up 2 places from 20th position in the EU 28 league table to 18th"
In this article Stephen O'Connor examines the report and latest Fibre trends.
There are two reports issued annually that are of keen interest to people who follow the EU Digital Agenda.
The first is the EU "Digital Economy and Society Index" (DESI) report published each June which tracks the tracks the evolution of EU member states in digital competitiveness. It covers Connectivity, Digital Skills, and usage by Citizens, Businesses and Public Sector. Encouragingly Ireland moved up one place overall from 8th to 7th in June 2019 which is a strong performance among the EU28.
The second report is the annual FTTH (Fibre To The Home) Market Panorama which tracks the Homes Passed and Homes Connected to full fibre networks throughout Europe. The report includes the latest EU ranking of countries and is published by the FTTH Council at their annual conference which is supposed to be taking place this week in Berlin. Instead the Council published the panorama in a webinar today.
The results were encouraging both for Europe and Ireland. Total EU homes passed is now 88 million (40% of premises) up from 74 million last year, with 38 million active subscriptions (up from 32 million last year).
Ireland, with 700,000 homes now passed and 145,000 subscriptions (ComReg data Q3 2019) in Sept 2019, has just under 8% of households connected to FTTH up from 3.8% last year. Almost doubling FTTH subscriptions from 75,000 to 145,000 has moved Ireland up from 20th position in the EU 28 league table to 18th passing out Italy and Poland.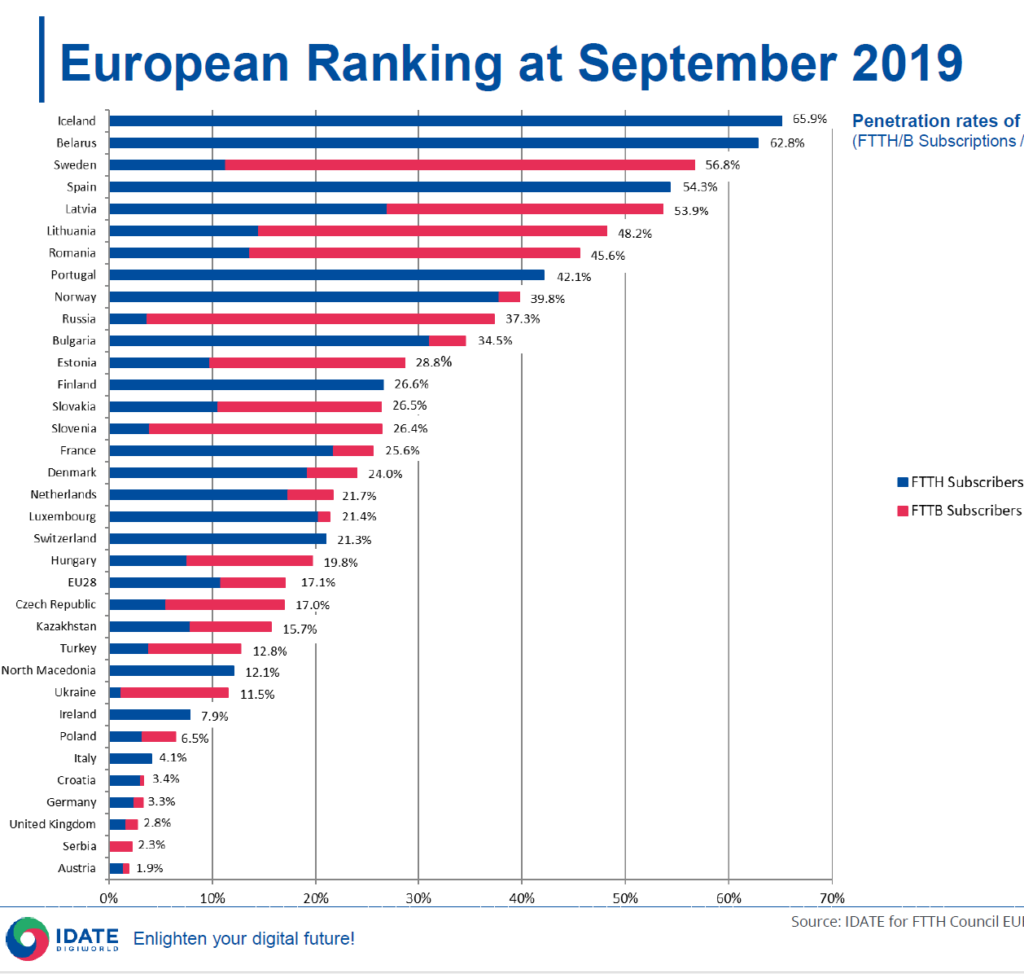 While Ireland still lags behind the Baltics and Scandanavians (as well as Spain & Portugal which have seen significant investment) it is worth noting that Ireland is still ahead of Germany, Austria and the UK, while Belgium and Greece have yet to join the league table.
To join the league table you need to have a minimum of 1% of households subscribing to an FTTH service. Ireland first joined this group in September 2017 after SIRO reached 30,000 subscriptions and became the 23rd member of the EU 28 to join the table. The UK subsequently joined the table in 2019.
The Fibre conversation has changed a lot in Ireland in recent years and the rate of market investment is at unprecedented levels. Ireland is cited in the report as having the second highest growth rate (70%) of homes passed in the EU 28.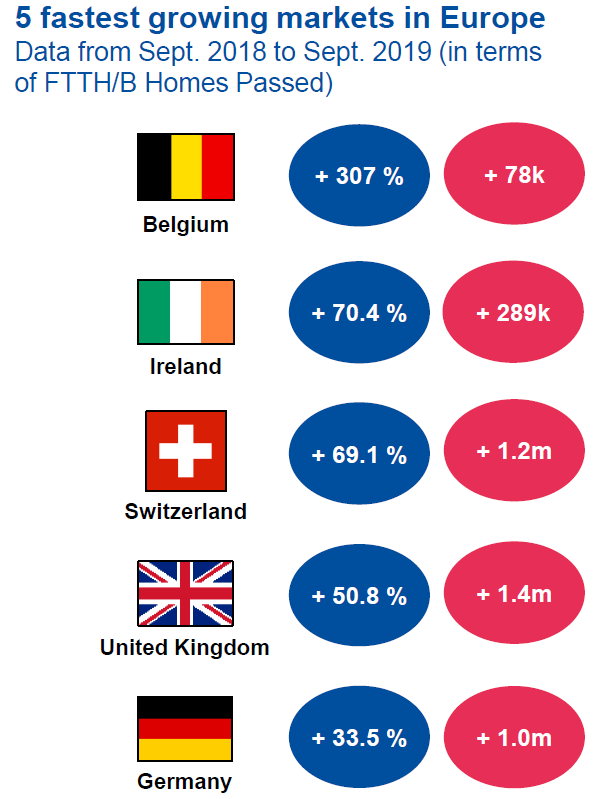 At the panorama measurement date (Sept 2019) Ireland had 145,000 household FTTH subscribers (up from 75,000 in 2018) moving Ireland up from 3.8% penetration to 7.9%.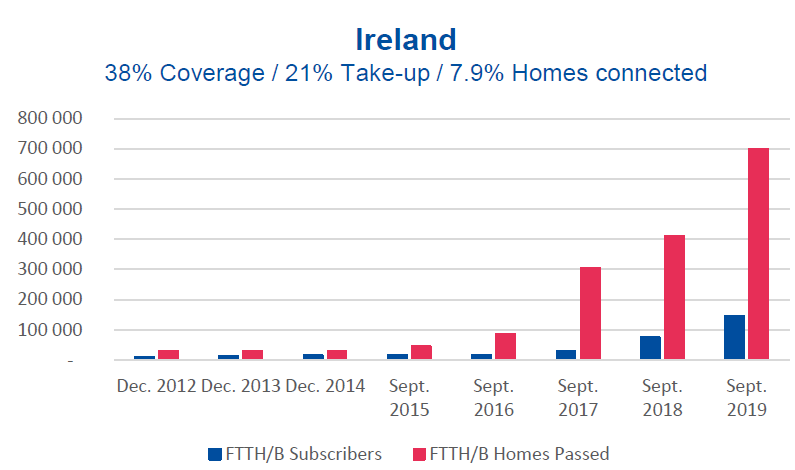 Summary
SIRO has passed 320,000 FTTH premises in 50 urban locations in Ireland and its plans will be supplemented by other operators and also the Government's National Broadband Plan (NBP) which will support next generation access to 540,000 rural homes and businesses.
In total, Ireland has c.700,000 homes passed with 100% fibre and clearly has ground to make up on our European peers both in network build and penetration (EU 28 average penetration is 17%), but being included in the panorama and moving up 2 places in the rankings is an important step to join the EU digital front runners.
Network deployment and subscription growth across the EU will be driven by incumbents moving to "copper switch off", increased home working, increased data usage, and clearer Fibre advertising standards. Based on this report there are real causes for optimism that this once in a lifetime transition from legacy copper to full fibre will happen in Ireland and the EU 28. The next stop is the rearranged FTTH Conference in Berlin in December 2020.