SIRO returns as main sponsor of Dundalk on Ice 2016
Dundalk on Ice will once again be centre stage of Dundalk's Frostival Programme for Christmas 2016 with SIRO, Ireland's largest 100% Fibre-to-the-Building (FTTB) broadband network, once again renewing its sponsorship of the ever popular Christmas event.
Dundalk Town Centre Manager Martin McElligott confirmed Dundalk on Ice will be a core part of Dundalk's Christmas Programme, providing a fun element and boosting local trade.
"Dundalk on Ice will open on Friday, November 18th with the official opening on our main 'Frostival' Day on Saturday, November 26th alongside the Christmas Jumper Record Attempt and switching on of the new Christmas lights and will remain open through to January 8th.
I'm thrilled that SIRO has once again supported Dundalk on Ice, as last year it proved to be a tremendous alliance between high speed broadband and high speed and energetic skating!"
Martin added: "Dundalk on Ice over the years has grown to become a tremendous asset to Dundalk's 'Frostival' season – it attracts not only our local community, but also people living outside the town, in some instances a good distance away. For many it has become a part of their Christmas Outing calendar. In addition, it creates an additional retail boost to Town Centre businesses with increased footfall and additional revenue."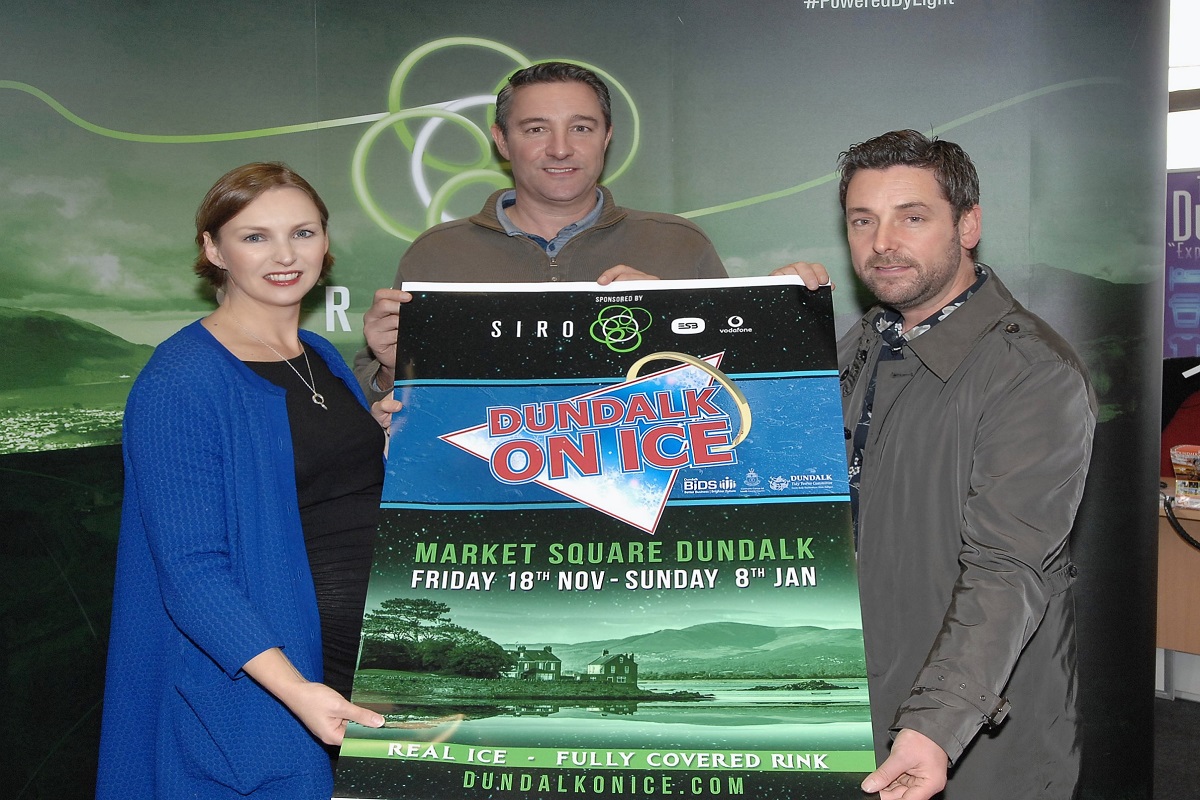 Speaking at the announcement of the sponsorship, Marianne Murphy, Head of Marketing at SIRO said:
"We enjoyed last year so much that we're delighted to sponsor this great initiative again this year! Dundalk was our first roll out town and we've gone from a standing start to Ireland's biggest FTTB broadband network. We are very thankful to the people of Dundalk for being so welcoming and supportive."
Inside the Dundalk on Ice tent SIRO will be showcasing how SIRO is transforming the broadband experience of consumers and businesses in Dundalk. The roll out that SIRO is undertaking in Dundalk is future proofing the town for the range of demands customers have now and more importantly into the future. SIRO is now available in Dundalk from Vodafone and Digiweb.
For Dundalk on Ice updates 'Like' the Dundalk on Ice Facebook page and follow @Dundalkonice on Twitter