We're climbing the mountain to full fibre; but do we have a roadmap to overcome digital divides?

Early this month, Vodafone announced a new digital skills training programme for older people in Ireland, supported by Alone and Active Retirement Ireland. The programme aims to reach 230,000 older people over the next five years. The initiative is hugely welcome. It can make a significant contribution in bridging the gap between digital haves and have-nots. The digitisation of all facets of how we live often leaves those without technological literacy feeling disenfranchised.
Many of us have experienced becoming the tech support for our parents or elderly relatives during COVID-19, connecting Zoom calls to relatives abroad, booking the COVID-19 vaccine online or setting up online supermarket home deliveries. Being connected was a lifeline for many cocooning during the pandemic. Yet many had to wait for their children or friends to get set up on tablets or iPads. Moreover, there were those who didn't have anyone they could call and were quite literally left to their own devices. Independence is something everyone values, so Vodafone's initiative respects this by providing those with poor digital skills with the autonomy to learn digital skills for themselves.
"This initiative shines a broader spotlight on the issue of digital divides across Irish society. These divides impact far beyond just our elderly. It can be an urban-rural divide, often closely linked to poor connectivity or absence of high-quality broadband in regional or rural areas."
Poor broadband is not just a rural affliction. It can be an issue in the heart of Drimnagh or Dundrum, just as much as it can be in the stony fields of Connemara or the mountains in Kerry. The use of outdated copper infrastructure across Irish towns and cities is still a reality; something that companies like SIRO, as it rolls-out 100% high speed resilient fibre broadband, are working to resolve. In our rural areas, the National Broadband Plan will also seek to level the fibre playing field. And yet the goal of achieving a full fibre Ireland grows closer by the day. There are also work-arounds which have been developed pending the full roll-out of fibre networks across Ireland.
"53% of premises across Ireland now have access to fibre broadband so the mountain is being climbed but there is still a bit to go to reach the peak."
One of these are Gigabit Hubs. Since 2015, SIRO, partnering with Vodafone, have been supporting community enterprise, regional development, and remote working facilities, powered by our one Gigabit fibre connection. With 16 SIRO Gigabit hubs now established across Ireland, these centres are providing valuable spaces for people to work remotely and for enterprise to grow collaboratively. These hubs are also creating their own ecosystems within their towns, supporting local direct and indirect jobs. SIRO's vision is to address the digital divide by illuminating Ireland's regional areas with speeds three times higher than the best available in Dublin. Yet, digital divides run deeper than just the need for access to fibre broadband networks.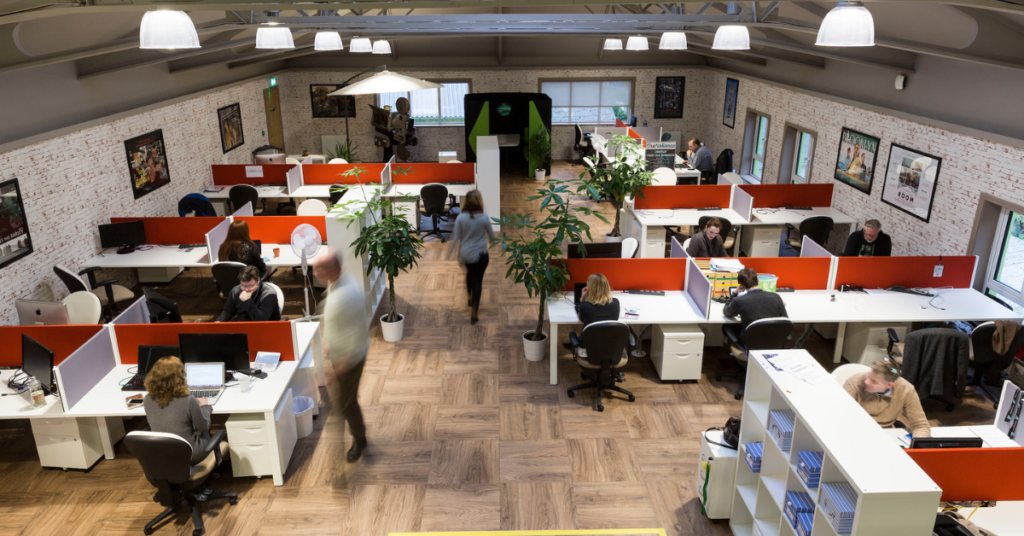 Research from the Department of Higher and Further Education found 50% of Irish adults lack basic digital skills. This could have grave consequences for our economy in the future. Prior to Covid-19, the SME sector accounted for over 60% of Ireland's workforce, and this crucial part of the Irish economy usually has the poorest digital ability. This sector was also the one most impacted by the pandemic and has the furthest distance to travel to economically recover from it.
It's not a coincidence that the most digitally literate and technologically advanced countries in the world, such as Japan, consistently score highest in global rankings of most entrepreneurial countries. Therefore, a solid grasp of digital expertise amongst the Irish population at large, and by our SMEs, is essential. The next generations, who come behind the business owners of today, despite the tag of being digital natives, research has shown also face challenges.
"This is the generation who will be the most reliant, particularly in terms of their participation in the workplace of the future, on having a high level of digital skills."
A survey conducted by tech leaders, last July, found that 76% believe that Irish schools are failing to equip students with the necessary digital skills, at both primary and secondary level. Some small steps in the right direction have been made, such as the inclusion of Computer Science in the Leaving Certificate examinations, for the first time in 2021. Alongside this, coding and ECDL have been included within school's curriculums for several years prior. More broadly, the Minister for Further and Higher Education, Simon Harris recently published a new national strategy which aims to half the number of Irish adults who lack basic digital skills from 47% to 20% over the next ten years. It is important for Ireland's social and economic development that this strategy delivers. The measure of its success must be a significant reduction in digital gaps across all groups irrespective of geographic location, demographics, or social status.