Black Friday Shopping - Is It Better to Buy Online?

With one of the busiest shopping days of the year, Black Friday, fast approaching, it's time to start researching where to shop online and how to get the best deals.
Black Friday, once a US tradition, now a global phenomenon is where deal-savvy customers piled into shopping malls after Thanksgiving ready to buy discounted goods for Christmas.
Now, in Ireland, it's certainly on consumers' minds. RTE noted that Google searches for "Black Friday" had increased by 138% from 2020 to 2021.
Online shopping is set to receive a massive boost throughout the day, as according to a study by AIB last year, Irish consumers were poised to spend more than €25,000 a minute, during Black Friday sales online.
Naturally in recent years there's been a shift from in-store shopping to online, as the pandemic dictated when we could shop indoors. A 2021 study by Statista highlighted that 87% of UK buyers preferred to do their shopping online. The same survey showed that only 17% would rather do their Black Friday buying in person.
Online shopping in general, has become a part of shopper's daily lives, and Black Friday is no exception. A reliable broadband connection is necessary if you're going to check out with the latest deals.
Are you on the fence about participating in Black Friday this year? Or whether online shopping is your thing? Here's some of the reasons why the sales might be for you.
Convenience
One of the major benefits of shopping online is being able to purchase your favourite items from the comfort of your home. You could be multitasking, one hand on the remote watching TV, the other scrolling through your favourite clothing brand.
Opting to shop online means you don't have to consider weather conditions, travel time, wait time etc. As well as that, it allows for more flexibility to suit your schedule, such as purchasing during your lunch break from work or during a quiet moment that suits while you're on break.
Studies from AIB in 2021 showed that the busiest time for shopping on Black Friday last year was between 11am and 12pm, due to people purchasing online during work hours.
A US Study by Drive Research found that 41% of shoppers did not want to shop in person/in stores on Black Friday due to the long queues and over 60% did not want to shop because of large crowds.
Large crowds in a post-covid world are a good reason not to traverse the high street, if your health is at risk. Online shopping may not only be convenient but the safer option for many, too.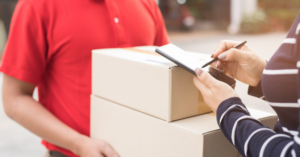 Greater Variety
Shopping online provides a greater variety of choice and access to international brands and websites. There may be more sizes available online, more selection available, and more discounts. Additionally, you can look at the various brands and their price points to compare and to get the best deal for yourself.
Another benefit is that you can view all the reviews of certain products and get more information about products than you could in store.
At SIRO, we understand the value of variety. As a wholesale operator with 20 retailers, we understand the power that providing choice to our customers brings. Competition allows the customer to get the best price possible, without compromising on quality.
However, with shopping online, there is the topic of sustainability, and how it can affect your carbon footprint.
Sustainability
Sustainability is a major consideration for consumers. It's no secret that shopping, either online or in person, can impact your carbon footprint. However, there are steps you can take to minimize this. By shopping online, you can view different brands websites which contains key information on whether their products are cruelty free, their returns policy, their efforts to use recycled packaging etc.
By having information, you can then make an informed decision on which brands to purchase from and choose the most eco-friendly option for delivery. Recent studies by DataReportal highlighted that the reason 19% of people surveyed shop online, is due to knowing the product or company is eco-friendly.
Online shopping also can reduce a consumer's carbon footprint. Instead of driving to a physical store, you are staying at home and making the purchase.
This year is likely to be a bumper year for Black Friday shopping, with increased inflation and higher costs of living, consumers will be online looking for bargains.
To get ahead of the competition and ensure you don't get frozen out on the many deals on the day, choose SIRO's 100% fibre broadband for your Black Friday experience.
To find out whether SIRO's high speed broadband is available to your home to assist you with your online purchases, search your Eircode here