5 Ways Irish Businesses Can Use AI To Grow

2023 has been the year that AI (Artificial Intelligence) exploded into public consciousness like never before. AI jumped from the pages of tech and business publications to water cooler conversations and prime time news bulletins.  
AI technology has been around for many years. We engage with it all the time; likely without even realising it. Yet the arrival of ChatGPT seems to have moved the dial in terms of public imagination, accessibility and ease of use, much more than other iterations of AI technology.  
Quietly launched by OpenAI as a demo on 30 November 2022, ChatGPT, didn't stay quiet for long. Within days, word of its capability was extensively shared across social media. So fast that within five days of the launch ChatGPT already had a million users. Within two months this figure reached 100 million users. It continues to grow, especially with business – 80% of Fortune 500 companies are subscribers.  
ChatGPT is an AI chatbot that uses natural language processing to create humanlike conversational dialogue. The language model can respond to questions and compose varied written content, from articles, social media posts, essays, reports and emails. What makes it standout is that its responses and style are so human like.  
In the context of Irish business, particularly Irish SMEs who make up over 90% of our companies, AI offers a wealth of opportunities to address many of the issues and pinch points they encounter. Particularly in the current Irish business environment, characterised by increasing costs and labour market shortages but coupled with value-seeking consumers who demand always-on customer service.  
Key areas where AI tools can support Irish businesses include: 
Administrative Tasks
Admin is a necessary part of running a business. It can be time consuming and tedious. Often these key tasks are repeatedly pushed to the bottom of the To Do list.  
AI tools can step in and carry the load for tasks such as data entry, task management, appointment scheduling and calendar management, document management and classification, meeting transcripts or report generation.  
Tools include: Otter Google Assistant Fireflies ChatGPT 
Customer Service
Chatbots! They have not always had the greatest reputation, with customers complaining that they want to talk to a "real person." This view is outdated. It neglects the advances in AI technology which have significantly improved how Chatbots now interact and engage with customers.  
They can act as a first line of response on your website or messaging channels, answering common or relatively simple questions. This reduces a team's workload and frees up their time to deal with both complex and high-value customers queries.  
Another clear advantage is that these bots can provide a triaged customer service response, and 24/7.  
Equally, bots can provide personalised and individual recommendations to customers based on their previous engagements on the site. This support can be critical in keeping customers longer on your site and staying on to check-out and completing their purchases.  
Beyond bots, there are also multiple AI tools to analyse customer engagements, sentiment, shopping habits and feedback to help businesses better understand their customers or how they view products or services. This information can actively help a business to improve its offering.  
Useful AI tools include: Zendesk HubSpot  Intercom  Salesforce  Brandwatch  Brand24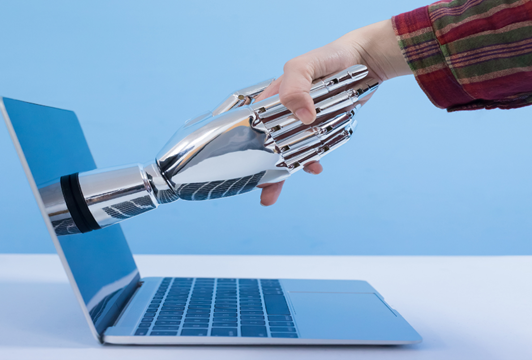 Human Resources
AI can also support a variety of human resource functions from initial recruitment to performance management. 
This support can include assisting with the recruitment process by using AI to screen CVs, shortlist applicants and schedule interviews. 
Once a position is filled AI can then help with the onboarding process and creating the employee documentation such as contracts or orientations documents.  
AI can also play a key role in evaluating employee performance, gathering and assessing feedback and spotting trends and areas for performance improvements.  
Platforms include: Zoho Recruit   BambooHR  UpWork 
Translation services
If you are a small business but selling into international markets, language barriers can be an issue in terms of your website, your marketing materials, contracts, agreements and other vital documents. 
Previously, the only way around this was to use costly translation services. AI can now do this process seamlessly and cheaply.  
AI resources include: Google Translate Bing Microsoft DeepL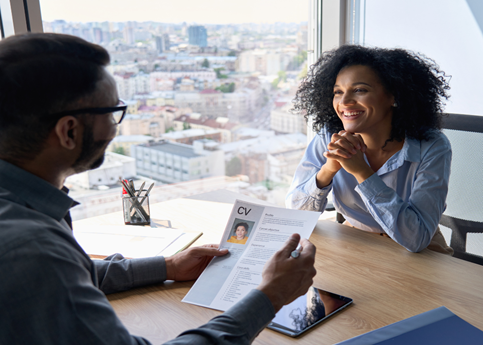 Social Media and Content Creation
Social media has long been a shop window for many small businesses to either promote or actively sell their goods and services.  
But anyone running a small business also knows that social media is a beast. One that must be constantly fed with new and updated content. Few small businesses have bandwidth for a full time dedicated social media content resource.  
Here AI tools, can step in to ease the burden. Tasks which AI can contribute to include generating content ideas, developing engaging captions or copy, or designing eye catching images or infographics.  
Other areas where AI can assist include scheduling social posts at optimal times; generating data analysis on social posts performance to provide real time data or inform future campaigns; or, personalising social posts to foster deeper engagement and brand affinity with consumers.  
Popular AI social media tools include Social Sprout  Hootsuite  DALL.E 2 
Reliable connectivity as an enabler of AI for Business
There are an abundance of AI tools and platforms which can all help make business more efficient, productive and optimised for the growth. However, a key part of unlocking the AI opportunity lies with access to reliable and robust connectivity – fibre broadband – to underpin such tools.  
If you would like to find out whether SIRO's 100% fibre broadband is available to your home, search your Eircode here.