27,000 Premises Available in County Kildare
SIRO, the joint venture between ESB and Vodafone and wholesale operator have today announced that over 27,000 homes and businesses can now avail of fibre to the home broadband. When SIRO initially launched plans for Kildare in 2017 in collaboration with its contractor Actavo, the broadband operator aimed to connect 17,000 premises across four towns. Naas, Sallins, Johnstown and Kill were the first towns to be connected under SIRO's roll out.
Kildare is now one of 21 counties that have access to connectivity three times the speeds of what's currently available in Dublin, rivalling leading global cities like Singapore and Tokyo. Four years on, nine towns across the county can avail of 100% fibre Gigabit Connectivity. These include Naas, Newbridge, Athy, Kildare, Clane, Sallins, Kill, Kilcullen and Prosperous.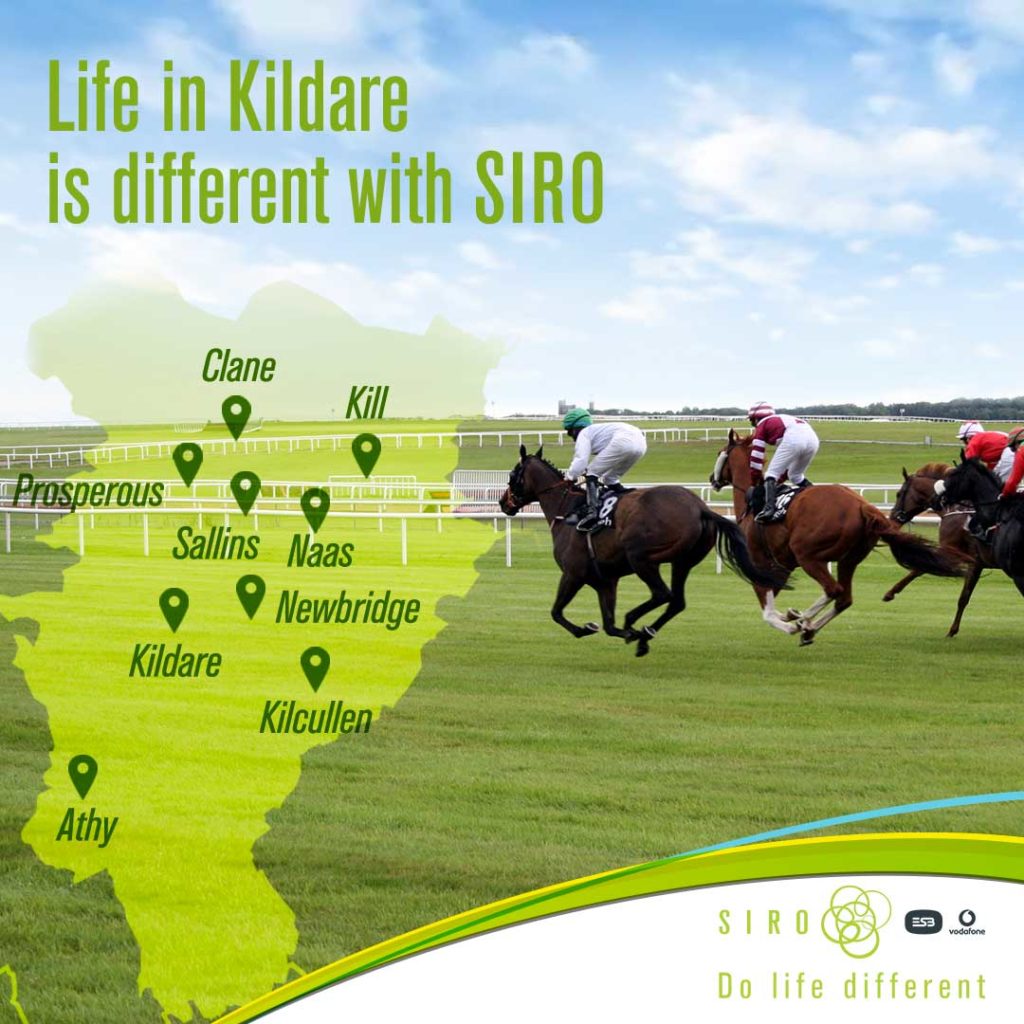 Hybrid Working – Dependant on Reliable Broadband
Since the onset of a global pandemic, access to reliable connectivity has been critical as we shift towards a hybrid approach to working, living and learning. Fibre connectivity is a utility that can withstand Zoom calls, streaming and large file uploads simultaneously; enabling residents of Kildare to do life differently with no lag or interruptions.
SIRO's network is built utilising the ESB overhead and underground electricity network, ensuring a fast and reliable connection directly to your home. There is no copper connection involved, meaning homes and businesses can reach speeds of up to 1 Gigabit per second.
Commenting on the milestone achievement, Rodney Howard, Build Manager at SIRO said:
"We're delighted to announce that SIRO in collaboration with Actavo have enabled 27,000 homes and businesses to avail of fibre to the home connectivity. When we first launched in 2017, we aimed to connect 17,000 premises. However, the demand for reliable broadband has enabled us to exceed our original goal, by almost 60%, more than doubling our presence from four to now nine towns in the county.
Kildare is a county known for many things, one being its commuter county status but now that SIRO's network spans across nine towns, we hope to enable the people of Kildare to work, live and play closer to home".
SIRO CEO John Keaney, noted:
"When we first launched our fibre roll out to Kildare towns, we couldn't have anticipated the full extent of the demand in the county. Demand for reliable and resilient broadband exploded during COVID-19 due to working from home and eLearning, in addition to staying connected with family and friends.
These ways of living and working are here to stay, and fibre broadband is now viewed as an essential service. Just like water or electricity, high quality broadband is now fundamental to how we live. Access to this service gives individuals, families and communities much greater choice in how they live and work and in ways that work best for them"
SIRO fibre broadband for home is available to order from: Sky, Vodafone, Digiweb, Blacknight and PureTelecom.